Graduate Studies Center to Open in Spring 2012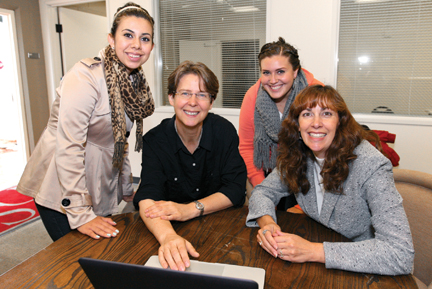 Left to right: Rosa Alvarez '11, Kaia Tollefson, Angelica Perez (student), and Wendy Olson;
Below: OP&C employee Anthony Mestas 
By Janet Egiziano, Director, Thousand Oaks Campus; Associate Director, MBA Program 
Soon, an unoccupied building at the north corner of campus will buzz with activity. The Graduate Studies Center, the most visible element of Project Vista, will open in January 2012, at El Dorado Hall. Project Vista, funded by a U.S. Department of Education Title V grant, promotes post-baccalaureate and graduate opportunities for Hispanic and other under-represented students. Its impact, however, has far-reaching, positive implications for all CI students. 
"At its heart, Project Vista is an institution strengthening grant," says Associate Professor Kaia Tollefson, project director, "It provides a means to identify institutional barriers that inhibit student access and success." A variety of methods, many of which involve students, are being used to identify such barriers. Last spring, Project Vista committee members conducted several focus group interviews of current and former students in CI's post-baccalaureate and graduate programs. Students were asked to share their experiences and to identify needed services. What emerged from these interviews was a picture not only of the Hispanic student experience, but also of the non-traditional student experience. 
Like most universities, CI student support services and programs are designed to serve traditional college students who tend to be young, live on campus, and attend classes during the day. The traditional model appears to meet the needs of CI's Hispanic undergraduate students, who, in 2010, made up approximately 32% of the undergraduate student population. That figure changes in graduate programs, however, where, in 2010, Hispanic students made up just 9% of the student population. Graduate students attend classes in the evenings and on Saturdays, often working full-time, and can lack access to academic advisors and financial aid counselors. Hispanic students noted these issues as well as a lack of childcare, as significant barriers. 
Another issue emerged through an informal study in which undergraduate students, under the direction of Damien Peña, Associate Vice President for Student Affairs/ Dean of Students, were deployed across campus to identify how students utilize campus space. They counted over 300 students eating lunch in their cars, a finding that suggests many students have not claimed any space on the campus as their own.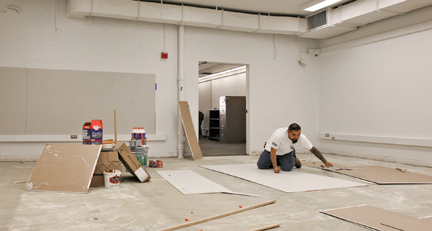 The new Graduate Studies Center intends to address such issues. Academic advisors and financial aid counselors will hold later hours and will go off site to assist graduate students enrolled in off-campus programs. With a student lounge, study space, snacks, and coffee, the Center will be a comfortable and welcoming space, one that students will want to claim as their own.