A Bridge Between Races
Author and educator Gregory Howard Williams shares his multicultural journey as part of CI's Campus Reading Celebration.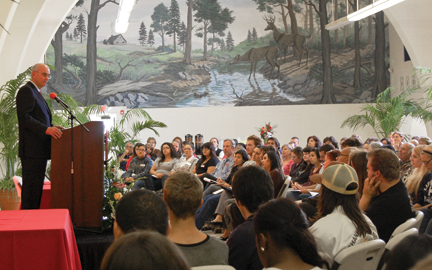 By Lori Putnam 
Imagine your life changing over the course of a single bus ride. For Gregory Howard Williams, president of The University of Cincinnati, the world as he knew it changed irrevocably during a childhood move from Virginia to Indiana when his father shared a family secret — that he was, in fact, biracial. 
As Williams recounts in his award-winning memoir, Life on the Color Line: The True Story of a White Boy Who Discovered He Was Black, he boarded the bus white and disembarked in Muncie, Indiana as black. "Even though I was only 10," he observed, "I knew enough about America that it made a difference whether you're black or white." 
Today, there are an estimated 6.1 million multiracial Americans, with the number of mixed-race children totaling more than 4 million. Yet when Williams arrived in the Midwest in the winter of 1954, few spoke of a multicultural heritage in a nation still in the grips of segregation. Willliams recalled his father saying at the time, "I want you to remember you're the same today that you were yesterday. But people in Indiana will treat you differently." 
The CI community welcomed Williams as the featured author of the Campus Reading Celebration at an evening reception on October 3, followed by a student and faculty event the following day. According to President Richard R. Rush, the annual event is intended to help students view books as vibrant entities. "We seek to empower students to become engaged readers who incorporate books into their frameworks of critical thinking," he remarked in his introduction of Williams. 
Williams greeted the CI audience with his own testament of a love for reading. "I would go through the (library) stacks and try to find books that would help me escape the reality of my life at the time," he said of a childhood plagued by an absent mother, an alcoholic father, and severe poverty. "They didn't, but I learned how some folks dealt with adversity in their lives." 
Williams and his younger brother would eventually be taken in by Dora Weekly Smith, a middle-aged black woman who, as Williams put it, was the first to show kindness to the two boys. "When asked how I could become a university president twice," said Williams, "Miss Dora is the answer to that. I learned a lot getting my degrees, but the most important lessons I learned were from a woman with an eighth grade education." 
"I do believe there was a reason I was called upon to live the life that I was given," said Williams, reading from the conclusion of Life on the Color Line. "Maybe to share it with others in the hope that no child will have to experience what I did. I realize now that I am bound to live out my life in the middle of our society and hope that I can be a bridge between races, shouldering the heavy burden that almost destroyed my youth."