Taking a Far-Reaching View
Project Vista hopes to improve graduate services and increase access for underserved students at CI.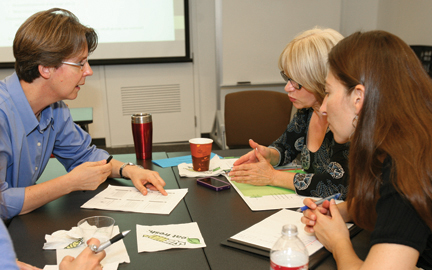 By Lori Putnam 
The first thing you should know about CI's Project Vista, funded by a federal Title V award, is that its name is not an acronym. It is, in fact, meant to mean vista — a word which connotes a distant view along a stretch of landscape or, in the University's case, a far-reaching mental view of a student's academic career. In Spanish, this would be called vistas del futuro. 
For Project Vista, that view may very well begin in kindergarten. According to current trends, of every 100 Hispanic students who start school in kindergarten nationwide, only 26 will enroll in college, eight will successfully graduate with a bachelor's degree, and two will go on to earn a graduate degree. 
This pattern, which ultimately leads to underrepresentation in post baccalaureate programs, is structurally created according to Kaia Tollefson, Associate Professor of Education and Project Vista Director. "When we look at the kinds of P-12 school facilities and resources in this country, there can be a dramatic difference in experience in schools where kids are poor and in schools where kids are affluent," she observed. A social justice advocate and former elementary school principal, Tollefson was part of the grant writing team that ultimately secured a $2.83 million award for Project Vista from the U.S. Department of Education's Promoting Post Baccalaureate Opportunities for Hispanic Americans (PPOHA) program.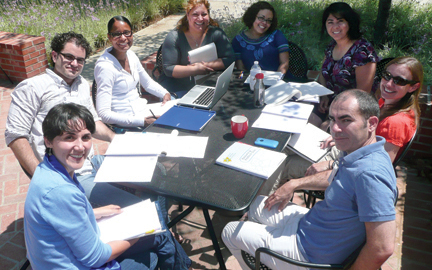 Project Vista is funded for five years with the goals of meeting the following needs: increasing Hispanic and low-income student enrollment in post baccalaureate programs at CI; expanding services to graduate students; enhancing faculty development related to graduate students; promoting greater access to higher education through financial aid and distance learning; and building professional and community networks. 
"While this grant addresses educational opportunities for Hispanic Americans, it is an institution-strengthening grant as well," added Tollefson. "By improving our programs to enhance student access and success, we strengthen our institution for all students." In fact, the original draft of the Project Vista grant proposal was expanded to include not only the School of Education but all graduate programs on campus, with the goal of attracting and retaining Hispanic and other underrepresented students in master's degree programs ranging from business and biotech to mathematics and computer science as well as education. 
According to Tollefson, the University has been successful in building strong undergraduate programs with well-established student services and campus culture. She'd like to see additional focus placed on developing services specifically for post-baccalaureate students and grow a stronger graduate culture at CI. Project Vista provides an opportunity to create that focus. Plans are underway for a Graduate Studies Center to be housed in the former Hub on campus, now called El Dorado Hall. Graduate services will eventually include such things as admissions, financial aid, and general program advisement in addition to specific writing support to address such things as APA/ MLA style and thesis and grant writing. 
Professional and career development activities along with scholarships for FAFSA-qualified students are also under consideration. Last year, Project Vista awarded $22,000 in student scholarships. Tollefson hopes to nearly double that amount to $40,000 this year. 
Pavel Escobedo is a recent recipient of a Project Vista scholarship. Born in Mexico and raised in Ventura County, Escobedo earned his undergraduate degree at CI last year and is now pursuing a teaching credential. "I'd like to get a master's degree in Educational Leadership with a goal of becoming an elementary school principal one day," said Escobedo. "And then, down the line, I'd like to get my Ph.D." He credits the Project Vista scholarship and other funding with helping him to dedicate more time to coursework. It's that extra push, he stated, that makes the difference between continuing on in school or having to take a break to work more hours. 
In the long term, Tollefson hopes Project Vista can help change the terms of what accountability means in education. "What is important enough to count?" challenged Tollefson. "I want to count access, opportunity, and quality for every single student in Ventura County and beyond." Currently Hispanics comprise more than 36 percent of the Ventura County population, yet only nine percent of students enrolled in a post-baccalaureate program at CI are Hispanics. 
"Public schools exist to serve the public. If they don't look like the public, that's a problem," concluded Tollefson.
Eligibility requirements include: 
• Demonstrated financial need via FAFSA 
• Acceptance or enrollment in a post baccalaureate/graduate program at CI 
• Demonstrated reliability as a student and evidence of potential success in graduate studies 
• U.S. citizenship