You're Hired! CI Graduates in the Workforce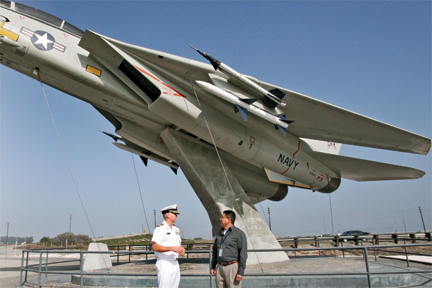 By Lori Putnam 
It has been 75 years since Dale Carnegie published his seminal book How to Win Friends & Influence People, and yet his strategies still offer relevance for a nation facing one of the worst job markets since the Great Depression. For CI alumnus Austin Walker, in particular, his introduction to Carnegie led him to a rewarding new career.
"I had been at my job for about a year and doing well, but I was looking for other opportunities," recalled Walker, who graduated from CI in 2008. "I wanted to get in the community more and connect with people." So he decided to attend the University's Alumni Mentorship & Networking Night. Now in its sixth year, the event to be held on Dec. 1 is sponsored by the University's Alumni & Friends Association and the Business & Technology Partnership. It typically attracts 30-40 mentors who are paired with CI students and alumni.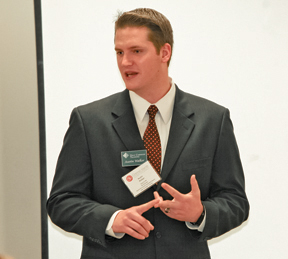 Walker's mentor that night in December 2009 was Jey Wagner, president of the Dale Carnegie Training of Greater Los Angeles and Ventura County, and the event's keynote speaker. According to Walker, he felt an immediate connection with Wagner, one which the audience seemed to share as well. "After the event I saw the reaction from other mentors, students, and alumni to Jey," recalled Walker. "They gravitated in his direction." 
Just a month after the alumni event and after participating in a free Dale Carnegie Training program compliments of Wagner, Walker was hired as a business development manager at the company. Today he works with both individuals and teams to improve performance in such areas as leadership, presentations, sales, and customer service. "It's really common sense principles, things you don't always think about, but when put into practice they yield amazing results," said Walker of Carnegie's tenets. 
Growing the CI "Tree"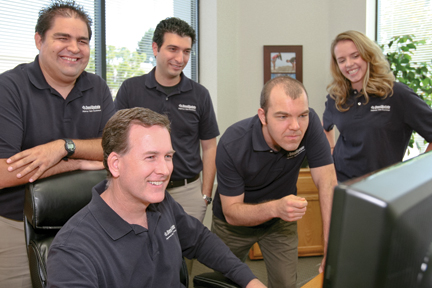 One of Carnegie's time-honored strategies is to show a genuine interest in other people which, in turn, naturally attracts more people to one's circle of influence. For Brian Tusi, Network Operations Manager at OmniUpdate, that genuine interest in others has also helped to grow the presence of CI graduates at the company. Tusi was the first CI alumnus to be hired at the Camarillo-based web content management system (CMS) provider, and now helps to spread the word about job opportunities to fellow alumni and students. 
"At the beginning, I knew the job candidates personally," said Tusi. "Now it's like a tree. The ones I know now hire the CI students and graduates they know. I love having the University just down the street. It's great to have that resource close by." 
Tusi is also completing his master's degree in Computer Science, a program that has become a popular source for recruiting CI students like Nicole Conary and Nick Peters. Conary, a Product Specialist at OmniUpdate, graduated with a BS in Computer Science in 2009. "A lot of my friends already worked at the company, so I didn't have to worry too much about who I would be working with," said Conary. "It's a small world here."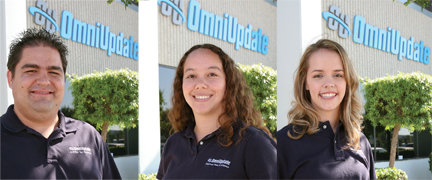 Peters, a 2010 graduate with a double major in Computer Science and Mathematics, heard about opportunities at OmniUpdate during a dinner with Computer Science graduates that included Tusi. Peters was subsequently hired as a software developer. "One of the important parts of the college experience is networking," added Peters. "When students get to know each other outside of the classroom it presents more opportunities for jobs." 
OmniUpdate President and Chief Executive Officer Lance Merker values the work ethic that CI alumni bring to the company. "CI graduates are a little more hard working, a little more practical, and very down to earth," observed Merker. "A lot of what we do here revolves around being creative and being good problem solvers, and we see that in CI graduates too." As head of a fast-paced and growing technology organization, Merker appreciates the talent available at CI. "We're in the software industry, so there are virtually no limits to what we do. If you can dream it, we can build it. We have big dreams ourselves," he added, "dreams that could dramatically change the landscape of higher education." 
Last year, OmniUpdate was chosen as the CMS provider for CI's web site after an extensive review of other content management products. For CI's Vice President of Information Technology Services, A. Michael Berman, it's a win-win situation: "Ours is a valuable partnership in that OmniUpdate provides a product so good that we want to use it, and at the same time, they provide employment for our students. It's rewarding to see a company that serves institutions of higher education across the country doing so well in our own backyard." 
"Develop Our People" 
While technology businesses are a growing part of the Ventura job market, government continues to be a primary driver. As the county's largest employer, Naval Base Ventura County (NBVC) is home to more than 17,000 civilian and military personnel and is directly or indirectly responsible for creating more than 8,200 jobs in the area. With such a workforce at hand, it should be no surprise that one of the base's key guiding principles is to develop its people and CI plays a role in fulfilling that mission. 
"There's a great partnership between the two institutions," said Captain James J. McHugh who, as the base's commanding officer, oversees the Navy's facilities at Point Mugu, Port Hueneme, and San Nicolas Island. "From a military standpoint, our sailors and other employees are able to get an education from the University and have access to its facilities. On the other hand, the University is producing an educated workforce that can pursue employment opportunities here at the base." Currently, CI provides guaranteed admission for five active military members or veterans who are nominated personally by McHugh. 
Robert Sandoval is a civil engineer who first worked on the base as a Navy intern more than 30 years ago. Last year, he earned his M.B.A. from CI. "I was 46 years old and had long finished up school," said Sandoval, who earned his master's degree in engineering from U.C. Berkeley in 1988. "I like to be challenged with new ways of doing business. I was able to participate in a career development program that offers funds for those who want to get further training." Today Sandoval credits his CI education with helping him better fulfill his role as a coordinator between the Navy's Seabees and the Army. 
A Flood of Talent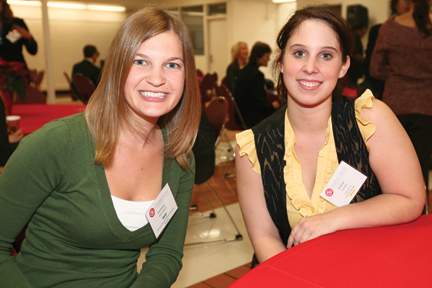 In May 2003, CI celebrated it first graduating class of seniors. At that historic commencement ceremony, President Richard Rush described the quartet of CI seniors as "…merely a trickle of the flood that will follow." Eight years later, there are now more than 5,400 CI graduates, many who are working in business and finance, biotechnology, education, government, healthcare, and non-profits – to name a few industries. And many, like OmniUpdate's Brian Tusi, are planting seeds of CI networks across organizations and industries. They are waiting for the next class of graduates to grow the CI workplace family.
Editor's Note: Neither the Department of Defense nor any of its components endorse California State University Channel Islands or its programs.