Service Above Self 
CI Rotaract Club offers students opportunity to give back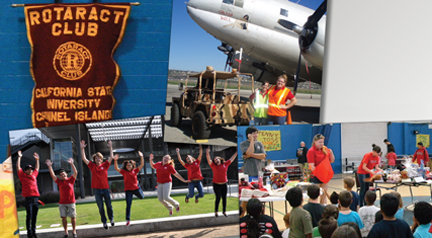 By Lori Putnam 
As a CI freshman, Tanya Yancheson found herself searching for ways to become more involved with the world around her. "I realized I was in my room a lot and I wanted to get out and meet people," she recalled. "I wanted to get that college experience." In her words, she needed to get out of her comfort zone so she decided to attend a Rotaract Club event. 
Four years later, Yancheson is the Club's president and an outspoken supporter of the young professionals' arm of Rotary International, an international organization that encourages leadership and community service. The CI Rotaract Club was founded in 2005 and is sponsored by the Camarillo Noontime Rotary Club. The name itself stands for "Rotary in Action" and is geared to young adults ages 17-24. 
The CI Club has two advisors, Janet Pinkley and Kaela Casey, who have been helping to guide its members since 2008. The advisors emphasize that the Club offers both service and professional development opportunities. "We had one member secure an internship at the Camarillo Hospice simply by attending a lunch meeting," said Casey. Other resources include resume workshops and mentoring opportunities with Rotary members. 
Service projects remain at the heart of the Rotaract experience. According to Pinkley, projects are inspired by students and Rotary International, which is known for its national End Polio Now campaign. One of Rotaract's more popular events is an annual carnival for the Boys and Girls Club of Camarillo. Last year more than 200 kids participated. "Many CI students volunteer at the carnival because the kids have so much fun and appreciate what we do," said Pinkley. "Seeing the benefit of your service, and what an hour of your time can mean to someone else, is powerful." 
"It really inspires leadership qualities," added Yancheson of her Rotaract experience. "It also gives you a different perspective." She recalls a project helping to build shelters for the homeless in Ventura, and how rewarding it was to hear the perspectives of other members of the community. Yancheson also points to students who have volunteered abroad, sponsored in part by the Rotaract Club, to assist in providing dental care in Guatemala and education in India. 
"All of this, in a sense, is helping you to become a better person after college," she added. "Rotaract not only helps you now, but in the future as well." 
There are currently 23 Rotary Clubs in Ventura, and there are more than 1.2 million Rotarians worldwide.