Teaching  for Depth and Understanding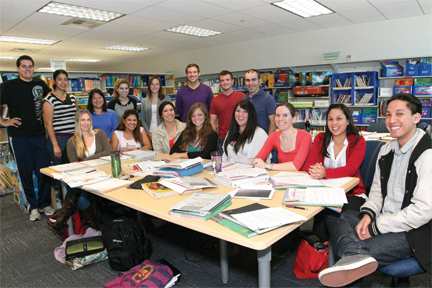 By Lori Putnam
"I think teachers get a bad rap," said Manuel Correia, Associate Professor of Education, when asked about the current state of education. "My experience has been that teachers are bright, inquisitive, and reflective. Teachers are intellectuals, and many are lifelong learners."
A generation ago, Correia's beliefs would have gone unchallenged. Today, however, teachers find themselves caught in the middle of a national debate on student learning and teacher effectiveness. For Correia the answer isn't necessarily found in scripted curriculum, and he tells his own class of future teachers that children are going to develop differently. "You're doing a disservice to children if you're going for breadth rather than depth," added the former elementary school teacher. "We should be teaching for depth and understanding."
Correia remembers his first year in the classroom fondly. "What surprised me and delighted me was how much children developed in just nine months, and that I was part of guiding their development. I couldn't believe I was being paid to do this," he said with a smile. 
Although Correia knew he wanted to become a teacher as early as junior high, his shyness could have impeded his career choice. "I was very shy," he recalled. "Even today I'm still shy in new situations. I might get nervous for the first 30 seconds, but then I get into my work. If you do something that you love, all the barriers will go away. You forget they exist."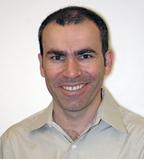 "You're doing a disservice to children if you're going for breadth rather than depth…" -Manuel Correia
Despite his professed shyness, Correia is a model of engagement and involvement at CI. Since arriving in the Fall of 2005, he has served on numerous University-wide committees. He currently serves as Program Chair for the School of Education, program coordinator for the Multiple Subject Teaching Credential Program, chairs the Institutional Review Board, serves on the President's Scholars Advisory Committee, and co-chairs the Professional Connections for Students and Alumni subgroup of the Project Vista Learning Community.
He also publishes regularly, with recent journal articles focusing on service learning and reflection. One article examines a writing strategy that encourages students to focus on the details of a "small moment" to deepen understanding. Correia has adapted this approach from early literacy development theory for his own students, having them keep journals about their service learning experiences and then asking them to focus on specific interactions that they participate in or observe in the classroom. This keeps students from feeling overwhelmed when asked to write about their teaching experiences, according to Correia, and also allows them to analyze these small moments from different perspectives.
Correia's education career began with a focus on language literacy and instruction, a focus that may have found its start in his own childhood. A native of Portugal, Correia came to the U.S. at the age of five. English would become his third language after Portuguese and Spanish. He earned his undergraduate degree in English with an emphasis on Teaching English to Speakers of Other Languages from California State University, Stanislaus, followed by a master's degree in education. In 2004, he earned his doctorate at U.C. Berkeley in Education: Language, Literacy, and Culture. His dissertation was on children's writing development in dual language immersion programs.
"In our society, literacy is so much a part of our culture. What you read says a lot about who you are." By way of example Correia explained that he likes to cook; he reads the dining section of the New York Times and tosses the sports section in the recycling bin. "It (sports) is not part of my personal culture."
What is clearly part of Correia's culture is a love for teaching, both for depth and understanding, and in many languages.