The Face Behind the Catalog 
Kathy Musashi guides courses from concept to catalog.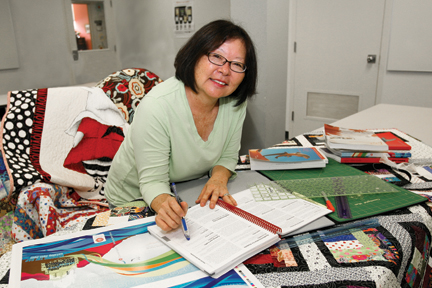 By Lori Putnam 
Growing up on a 300-acre farm in the Coachella Valley, one of the eldest of an extended family of 14 children, you learn a little something about juggling chores. "We handled things on our own," recalled Kathy Musashi of her childhood in a rural valley east of Palm Springs. She often found herself supervising her younger siblings and cousins and, when required, even teaching class when teachers weren't available. 
Those early experiences serve Musashi well now as Academic Programs & Planning Coordinator. In this role, she supports the University's Curriculum Committee and helps guide through changes to the University's 23 academic programs. Last year alone, she tracked changes to more than 300 courses. She then ensures those changes and additions are communicated to the greater academic community through her work in overseeing the University's course catalog.
And it is in this meticulous work, putting together various pieces of information, that you may find hints of what Musashi likes to do outside of the office. "I'm a mad, obsessive quilter," she confessed. "I've sewn all my life, but I've been quilting for maybe six years now." According to Musashi, it would take a year to make a quilt by hand. "I quilt by machine. I don't have a year to complete projects." Comparatively speaking, she begins the process of producing the catalog in the Fall and completes it by Spring. 
It's hard to slow Musashi down. Even when she suffered a broken kneecap last April, she was back to work mid-summer. Unfortunately the injury has kept her from her quilting. "I'll get there," she said of her recovery. In the meantime, as she puts it: "I've resorted to embroidery to keep me sane." 
Her return comes at a time of changes. She is now part of a new department headed by Dr. William P. Cordeiro, recently appointed Associate Vice President of Academic Affairs. Previously she had worked with Dr. Stephen R. Lefevre, a beloved member of the CI community who passed away in late September. 
Prior to joining CI in 2003, Musashi served as the registrar at St. John's Seminary College. While this was her first experience in academia, Musashi had already served 12 years in the corporate world at Power-One, Inc. Hired as the administrative assistant to the Controller, Musashi would ultimately assume the role of Vice President of Administration (Offshore Manufacturing) and would help build the company's operations in Puerto Rico and the Dominican Republic. 
Musashi lives in Camarillo with her husband of 30 years, Robin Morin, and her mother. Her family includes a son, her husband's two daughters, and five grandchildren.