CI Named a "Great College to Work For" 
For a second consecutive year, CI has been named one of the best universities in the nation to work for, according to a survey by The Chronicle of Higher Education. The results, released in The Chronicle's fourth annual report on The Academic Workplace, are based on a survey of more than 44,000 employees at 310 colleges and universities.
In all, only 111 of the 310 institutions achieved "Great College to Work For" recognition for specific best practices and policies. Even more significantly, CI was named to The Chronicle's 2011 Honor Roll because the University excelled in seven categories, the only university in California other than USC to achieve this distinction. Great Colleges to Work For is one of the largest and most respected workplace-recognition programs in the country.
Results are reported for small, medium, and large institutions, with CI included among medium campuses that have between 3,000 to 9,999 students. CI won honors in seven categories this year:
Collaborative Governance
Teaching Environment
Compensation & Benefits
Confidence in Senior Leadership
Respect and Appreciation
Tenure Clarity & Process
Diversity
For more information and to view all the results of the survey, visit The Chronicle's Web site.
CI Awarded Stem Cell Research Training Grant
CI has been awarded a $1.86 million grant from the California Institute for Regenerative Medicine (CIRM) to help prepare graduate students for careers in stem cell research. The CIRM Bridges to Stem Cell Research Training Grant will support research training for 45 graduate students enrolled in the master's program for biotechnology and bioinformatics with an emphasis in stem cell technology and laboratory management. Professor Ching-Hua Wang, director of the graduate program in biotechnology and bioinformatics, sought and obtained the grant.
The grant allows students in their second year of study to pursue year-long internships with one of more than 50 different research laboratories at 10 research institutions that are working to advance stem cell research and develop new therapies for chronic disease and injury. CI students have participated in research to treat problems ranging from Alzheimer's disease, diabetes and cancer to heart attack, macular degeneration, and spinal cord injuries at institutions including USC, UCLA, UC Santa Barbara, UC Berkeley, The Scripps Research Institute, City of Hope Beckman Research Institute, and Amgen.
Each CIRM-funded student will receive a $37,750 scholarship, internship stipend and travel fund. Additionally, each lab that provides an internship will receive $4,000 per student for research mentorship and supplies. A research institution that offers the students an advanced training course will receive $2,500 per student.
CI offers the only graduate degree program in biotechnology and bioinformatics with an emphasis in stem cell technology and lab management in the CSU system. Students receive a well-rounded professional program that combines science and business with theories and practical skills, allowing them to transition easily to the workforce.
Sustainability Efforts Earn a Silver Rating
CI has earned a silver rating for its environmentally friendly practices from the nation's leading advocacy group for sustainability in higher education. The rating, awarded by the Association for the Advancement of Sustainability in Higher Education's STARS® (Sustainability, Tracking, Assessment & Rating System) program, signifies that CI is doing a good job of going "green" in areas ranging from curriculum to construction to conservation of resources.
The University's rating was the result of a thorough, year-long self-evaluation process that involved staff, faculty and students. CI is one of more than 250 universities participating in the STARS program – and among the first 70 to complete the evaluation. STARS is the only sustainability self-assessment tool that helps colleges evaluate and publicly report how they're doing, where they can improve, what peers are doing and mark progress over time.
Examples of some of CI's highest-rated sustainable practices include:
Water conservation
Energy efficiency
Curriculum and research
Waste reduction
Human resources, diversity and affordability
CI joins 52 other institutions that have completed the STARS assessment in receiving a silver rating, including Yale University, the University of Oregon, and California State Polytechnic University, Pomona. For more information on the Association for the Advancement of Sustainability in Higher Education's STARS program, visit https://stars.aashe.org.
NASA Grant to Teach Climate Science in Local High Schools
A grant obtained from NASA will help engage Ventura County high school students in the science behind global climate change. CI Science Education Professor Bob Bleicher secured the $593,000 grant to help biology and earth sciences teachers incorporate NASA climate change data, research and curriculum into their classrooms. Teachers at eight schools in the Oxnard Union, Ventura Unified and Santa Paula Union High School Districts will receive professional development and resources under the grant.
CI was one of only 14 institutions across the nation awarded the funding through NASA's Minority University Research and Education Program. The first-time grant targets schools with a high percentage of Hispanic students, who are underrepresented in the fields of science, technology, engineering and mathematics.
The grant supports professional development for up to 20 teachers over two years at all six schools in the Oxnard Union High School District and at Ventura and Santa Paula High Schools. It includes honorariums for the teachers, instruction from nationally recognized experts on climate science, access to NASA satellite data and resources, printed and online support materials and lesson plans, on-site instructional assistance, and a two-day global climate change summer camp for students. The teacher instruction and student summer camp will begin in the summer before the 2012-2013 school year.
Faculty Members Awarded Google Grant
Three CI School of Education faculty members who were awarded fellowships and a grant from Google are developing a program to help teachers use technology more effectively in the classroom. CI's Professor Jeanne Grier, Associate Professor Jill Leafstedt, and Adjunct Lecturer Catharine Reznicek of the Ventura County Office of Education earned fellowships to take part in Google's first-ever Faculty Institute, held over the summer at its Mountain View headquarters. The three-day institute explored ways of using new technologies to enhance student learning. It brought together Google staff with 39 faculty members from 19 CSUs, Stanford and UC Berkeley, along with innovative teachers from across California for expert advice hands-on workshops, case studies and brainstorming. Google focused on CSU because CSU programs credential 60 percent of California's teachers – or 10 percent of all U.S. K-12 teachers.
While at the Institute, Grier, Leafstedt and Reznicek developed the idea for UDTech, an online program that helps teachers create lesson plans using technology to engage all different types of learners in the classroom. 
Google funded the proposal with a $20,000 grant and has asked the three faculty members to return in May to present their project. Grier, Leafstedt and Reznicek plan to pilot the program with teaching credential candidates at CI and Cal Poly, San Luis Obispo in the spring. Ultimately, they hope to make UDTech available to the entire CSU system and the broader education community.
Students Study Abroad
In 2008, CI and Zeppelin University, located in Germany, set out on a common mission: to encourage one another's students to study abroad and develop an international perspective. President Rush invited the President of Zeppelin University (ZU) to visit the CI campus and sign a partnership agreement. Since that time, 17 CI students have visited ZU's scenic lakeside campus in Friedrichshafen, while CI has hosted eight students from Germany.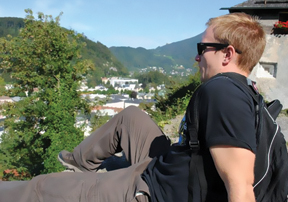 Jake Reilley, a CI sociology major and native of Castaic, is currently enrolled in courses at ZU. Reilley took a beginning German class before leaving the U.S., but appreciates the fact that many courses taught at ZU are conducted in English. Settling into his new surroundings was easy according to Reilley, "Zeppelin University has a really great buddy system to help you become acclimated to life in Germany and the University. My buddy helped me set up all of the necessities of life and invited me everywhere. It was much easier to meet people and become friends because I had access to his social network."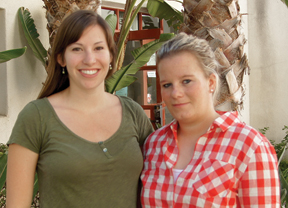 Hannah Bahl and Francesca Pick, who specialize in the study of culture and communication at ZU are taking courses at CI this semester. Pick values the intimate atmosphere of CI's small and well-integrated campus, an atmosphere that is similar to that of ZU. She also enjoys "the scenic campus and nature that surrounds it." After spending only a few weeks at CI, Bahl has made many friends and met "incredibly caring people who showed me the American way of life and made my biggest dream come true by taking me to all the nice surfing spots in the area." 
Students with an interest in learning about how they can benefit from the partnership between CI and ZU, or who want to know more about other study abroad opportunities, are invited to visit CI's Center for International Affairs at International Programs.
For more information on these University news stories visit https://www.csuci.edu/news/newsreleasesarchive.htm.