Filipinos in Ventura County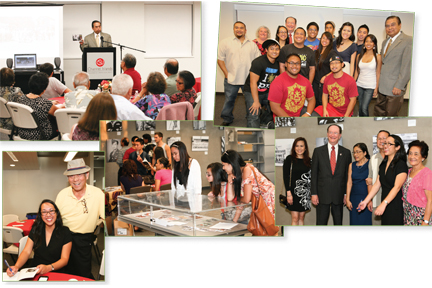 By Elnora Kelly Tayag, Outreach Coordinator
The project of documenting Filipinos in Ventura County started two and a half years ago when I surveyed collections at local public libraries, archives, and historical societies and discovered there was little on the history of the Filipino community. In conjunction with building the Filipino image collection for the John Spoor Broome Library, I wrote Filipinos in Ventura County, part of the Images of America series by Arcadia Publishing, to tell the history of Filipinos through photographs and highlight all the wonderful contributions they've made to the community.
The biggest challenge was unlocking access to the community memory and identifying families that were still in the area. Tony Grey, Executive Director of the Filipino American Council, generously shared with me his list of local leadership of over 20 Filipino organizations in the area. Charles Johnson, Librarian at the Museum of Ventura County, put me in touch with Tony Baker and Beatrice Talaugon-Dunn, who graciously introduced me to Nora and Federico Talaugon Jr., the first family I interviewed. Many people helped me identify more members in the chain of families who shared their photos, stories, valuable historical information, and new research leads.
I visited with families all over the county in La Conchita Del Mar, Santa Paula, Ventura, Oxnard, and Camarillo. Communities look to libraries and archives to tell their stories when the community memory fades. Together we were able to (re)capture our Filipino pioneers, their stories, and our place in the history of the region including the pioneering families of the Dela Rosas, the Ineses, the Omos, and the Talaugons, to name a few. We spent hours sifting through albums, capturing memories, and of course, eating great food. This project would not have been possible without the support of the all the families.
This project was funded by the California Council for the Promotion of History and the Institute of Museum and Libraries Services through the Library Services and Technology Act (LSTA), administered by the California State Library's Local History Digital Resources Project. In addition to the grant funding, the California State Library will also feature the digital collection in Calisphere and the Online Archive of California, both primary source databases that are a consortia of California libraries.
The Filipinos in Ventura County photo exhibit, which features selections from the image collection, will be on display at the John Spoor Broome Library from Oct. 12 through Jan. 31. The Library is still looking to collect primary source materials for this collection as well as other local history collections. To provide additional information for these collections, please contact Steve Stratton, Head of Collections, at 805-437-8913.