Crystal Gonzalez BA Communication '09
Helping Others Find Opportunity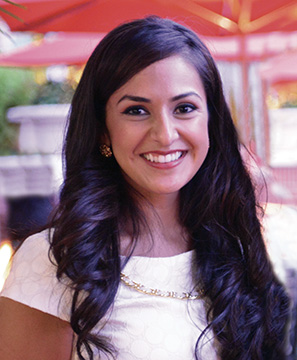 By Lori Putnam
Just two years after graduating and beginning her career, Crystal Gonzalez is already proudly making alumni donations and volunteering at CI fundraising events.
"Every bit helps – no matter how small," she said.  "CI did so much for me.  I'll give to the best of my ability."
A former scholarship recipient now working as a planned-giving administrator at the University of La Verne, Gonzalez can appreciate the impact donations have on college students.
"I believe every student deserves to go to college and create their own experience as I did," she said.  "Now I get to help provide the same opportunities for students that I had."
A first-generation college student raised in the City of Commerce, Gonzalez said she found unprecedented friendships, encouragement and opportunity at CI.  She studied communication, lived on campus, traveled abroad, and graduated in 3 ½ years with a 3.7 GPA. 
She also found her future career.  After taking a job as a student assistant in the CI Foundation office, Gonzalez saw first-hand the work that went into fundraising, donor cultivation and awarding scholarships.
"It was an eye-opening experience," she recalled.  "I got incredible exposure to almost every aspect of University Advancement that set me up for success in my career."
Her solid experience landed her a job at the University of La Verne, where she works with large donors to secure planned gifts.  She also earned her Master of Science in Leadership and Management in 1 ½ years while working full-time.
"I love what I do," Gonzalez said.  "Every day, I see donors who genuinely care about helping people better themselves and students who are evolving and thriving because of those opportunities."
Though she now lives in San Dimas – 80 miles away from her alma mater – Gonzalez happily returns to volunteer at CI events.  She recently helped out at the President's Dinner.
"Donors are interested in seeing where their money is going," she said.  "I want to show them that it's being put to good use."