Alumni & Friends Dodger Day
More than 500 CI students, staff, faculty and community friends attended the annual event.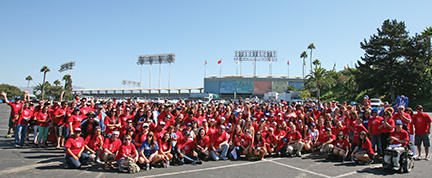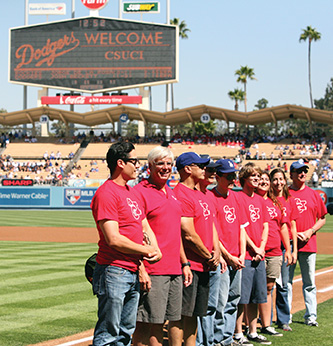 CI makes it onto Dodgervision! L to R: A&FA Board President Fernando Mora; CI Foundation Chair George Leis; Vice President for Student Affairs Wm. Gregory Sawyer; Assistant Provost Dan Wakelee and son, Andrew; Student Government President David Ashley; Student Programming Board President Lundon Templeton; Director of Alumni Relations Tania Garcia; CI President Richard Rush.
---
Upcoming ALUMNI Events
A Night with CI
Distinguished Alumni Awards Saturday, February 2, 2013
CSU Channel Islands' Associated Students Inc. and Alumni & Friends Association will host an inaugural all-campus reunion, entitled "A Night with CI", on Saturday, February 2 starting at 6 p.m. Attendees will experience an evening where they can reflect on their experience at CI, reconnect with friends, and celebrate CI's Decade of Distinction. A Night with CI will include a celebratory dinner, awards of distinction and live musical performance by current CI students.
---
Through the Grapevine
Alumni & Friends Wine Tasting Thursday, June 20, 2013
Through the Grapevine is an elegant evening of wine tasting and hors d'oeuvres in support of CI student scholarships. Location details will be available in the spring.
---
For more information on these and other Alumni events, visit http://www.csuci.edu/alumni/index.htm.