Scott Boczek '08 Liberal Studies
Mentor, Motivator, Minister
By Marya Barlow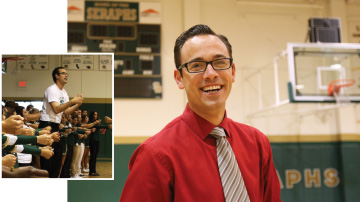 Working with teenagers isn't for everyone. For Scott Boczek, it's a calling.
"I see so many teenagers who, for one reason or another, do not believe in themselves, are struggling with low self-esteem, and are settling for just being OK," he said. "My job, as I see it, is to help them become the people they were born to be."
Since graduating from CI in 2008 with a B.A. in Liberal Studies, Boczek has become a sought-after speaker, corporate trainer and teen motivator. The Camarillo resident orchestrates leadership and character-development programs for teens in private and public schools throughout Ventura County. He spends weekdays working as director of fundraising and special events at Ventura's Saint Bonaventure High School, where he's also been a teacher and director of the campus ministry. On weekends, he imparts the Disney culture, history and heritage to thousands of theme park employees as operations manager and facilitator for Disney University. And two nights a week, he attends classes at Azusa Pacific University, where he's earning his Master of Arts in Digital Teaching and Learning.
Despite the busy schedule, Boczek's passion for teaching keeps him energized.
"I love being part of somebody's journey when they're being molded into the person they want to become," he said. "It's like their success becomes mine."
Boczek traces his interest in motivating teens back to his own participation in a teen leadership summit.
"I realized I did a lot of whining and complaining about how difficult my life was, when in reality, I was blessed with countless advantages and opportunities," he recalled. "From that moment on, I dedicated my life to service."
As a student at Oxnard's Rio Mesa High School, Boczek started an American Red Cross service club on campus. During his freshman year at CI, he became one of the youngest members of the Board of Directors in the history of the American Red Cross of Ventura County and served as youth minister at his church. He also embraced campus life – participating in the Student Programming Board, speech and debate, theatre productions, and choir.
Today, he's focused on bringing leadership and character-building programs to more teens in need. He's assembled a team of teachers, students and alumni from Saint Bonaventure, CI and Rio Mesa for "The Will It Matter Project," which he hopes to turn into a nonprofit organization that provides workshops for area schools.
"We live in a society where character education isn't taught, yet it's needed more than ever," he said. "I was fortunate to have some great teachers who knew how to connect, inspire and motivate. I want to give back what I received."