The President's Dinner
Presented by the CSU Channel Islands Foundation and Rabobank
Guests celebrate the University's ten year anniversary at the Four Seasons Hotel Westlake Village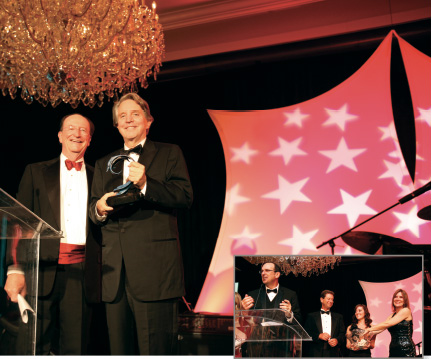 Photos: President Rush with Lagomarsino Award recipient Mike Curb;(inset) Jeff Paul and Carole Davis of Rabobank, Title Sponsor, pull a winning raffle ticket with Emcee Jack Clarke, left, Gold Coast Communications.
 
CSU Channel Islands Foundation and Rabobank presented The President's Dinner on October 6, 2012 celebrating the University's ten year anniversary. Held at the Four Seasons Hotel Westlake Village, nearly 400 community members, CI faculty, and staff attended the black-tie gala. The highlight of the evening was the presentation of the prestigious Robert J. Lagomarsino Award to Mike Curb for his support of higher education and, specifically, CI.
Curb, former lieutenant governor and acting governor of California, is one of the most prominent figures in the entertainment world. He presides over his own independent record label, Curb Records, and has received a star on the historic Hollywood Walk of Fame. As a dedicated philanthropist, Curb has provided significant support to CI through the Mike Curb Family Foundation. His generosity enabled the University to create the Mike Curb Studios, which offers students hands-on experience with the latest state-of-the-art technology in film and video production, post-production, visual effects, animation, gaming and music.
The evening's celebration included a fabulous silent auction, raffle, live entertainment and dancing. CI student Cynthia Duke gave a heartfelt speech about how a CI scholarship has helped her achieve her educational dreams. Proceeds from the event will support the University's highest-priority needs.
Event sponsors include Rabobank as the title sponsor, along with sponsors SAGE Publications, Wells Fargo, Karen and Peter Wollons, Montecito Bank & Trust, Aera Energy, Follett Higher Education Group, Harrison Industries, Santa Barbara Bank & Trust, Bank of America, Canteen of Coastal California, Elise and Bill Kearney, St. John's Hospitals, Heritage Oaks Bank, Canterbury Consulting, the City of Camarillo (10th anniversary sponsor), Malibu Family Wines, and the Pacific Coast Business Times. Raffle Donors include Van Gundy Jewelers and an anonymous donor.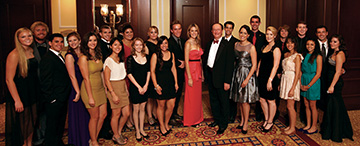 Photo: President Rush with student volunteers and guests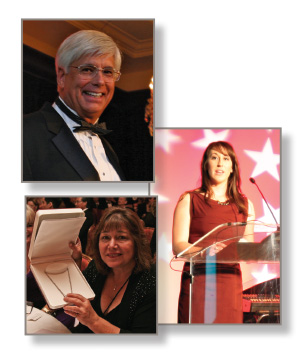 Photo collage: Foundation Chair George Leis; Nursing scholarship recipient Cynthia Duke; $25,000 diamond necklace raffle prize winner Debra Dettenmayer.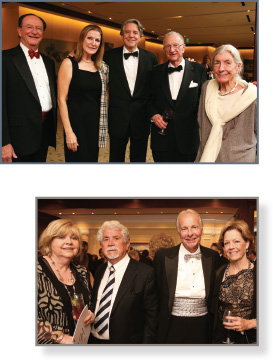 Photo, top: President Rush, Linda and Mike Curb (center) with Bob and Norma Lagomarsino; Bottom: Keets and Hugh Cassar, Bill and Elise Kearney
HONORARY COMMITTEE: 
Ventura County Supervisor Steve Bennett, The Hon. Michael D. Bradbury, Mayor Douglas A. Breeze, The Broome Family, Assembly Member Julia Brownley, Congresswoman Lois Capps, Margie Cochrane, CSU Trustee Emeritus Jim Considine, Mike Curb, Barbara and Wayne Davey, Ventura County Sheriff Geoff Dean, Linda Dullam, Laurie Eberst, Handel and Carol Evans, CSU Trustee Dr. Debra Farar, Ventura County Supervisor Peter C. Foy, Dr. Lori Gaskin, Mayor Robert S. Gonzales, Assembly Member Jeff Gorell, Ron J. Greenwood, Dr. James Harber, Mark Hartley, Mayor Thomas E. Holden, Mayor Bob Huber, Dr. Kathy Ireland and Dr. Greg Olsen, Mayor Jacqui Irwin, John Jacobs, Elise and Bill Kearney, Dr. Joyce Kennedy, Dr. Henry L. "Hank" and Leah Lacayo, The Hon. Robert J. and Norma Lagomarsino, George Leis, CSU Trustee Bob Linscheid, Dr. Mark Lisagor, Ventura County Supervisor Kathy Long, Daniel C. Lorenzen, Dr. Peter R. MacDougall, Mayor Jan McDonald, John T. Moore, Fernando Mora, The Hon. Jack O'Connell, Ruby Oertle, Dr. Timothy D. Osslund, Ventura County Supervisor Linda Parks, Mayor Janice Parvin, Senator Fran Pavley, Ventura County CEO Michael Powers, CSU Chancellor Charles B. Reed, Pat Richards-Dodds, Mel Sheeler, David M. Smith, Martin V. & Martha K. Smith Foundation and The Smith Family, Assembly Member Cameron Smyth, Senator Tony Strickland, Kathy Swor, Ventura County District Attorney Gregory D. Totten, Mayor Mike Tracy, Ron Werft, Carl Wesely, Robert Westberg, Assembly Member Das Williams, Dr. Mark and Cynthia Wolfsohn, Peter Wollons, Ventura County Supervisor John C. Zaragoza