CI Planting Days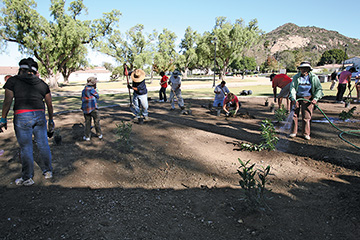 By Elizabeth Rubalcava, Presidential Aide and Project Manager, CI Foundation

Students, faculty, staff and community members participated in a series of four CI Planting Days—a volunteer program created to support the Central Mall Renovation Project, the largest grounds beautification effort in CI history.  From late October through mid-November, dozens of volunteers installed perennials, bushes, and trees throughout the University's newly converted Central Mall, once a busy two-lane street which has been transformed to an open park area accessible to pedestrians. 

The renovation of the Central Mall is an essential piece of the University's campus master plan. The mall area is 302,000 square feet of green space and runs through the heart of campus, stretching from the John Spoor Broome Library to Aliso Hall. The project includes the conversion of the two-lane road to a pedestrian-only thoroughfare, the renovation of existing landscaping, a decorative Spanish Mission style fountain situated in the center, a large plaza area connected to decomposed granite walkways, benches and lighting, rose gardens, and hundreds of native, drought-tolerant perennials, bushes and trees.

Moreover, landscaping and irrigation are key components to the renovation. A well-designed irrigation system will support the addition of native plants and drought-tolerant trees throughout the mall. When complete, the Central Mall will serve as a gathering place for community and student events, as well as provide students with outdoor seating for study and recreation.

The project is funded through the generosity of students, businesses and community donors. The success of the project depends on community support of all kinds, from cash donations to gifts of time and materials. The University wishes to recognize the generous contributions provided to date:

Agromin; The Associated Students, Inc.; Boething Treeland Farms, Inc.; C.A. Rasmussen, Inc.; Diversified Minerals, Inc.; Freska Produce; Fruit Growers Supply; Gail Materials; Green Thumb Nursery; Leavens Ranches; Limoneira Company; Monsanto; Oshan Trees; Pinkerton Ranches; Performance Gardens; Porterville Citrus; Santa Barbara Botanic Garden; Umina Brothers; and several other gifts of varying sizes.

The CI Foundation's "Leave Your Mark" campaign offers supporters the opportunity to "adopt" trees and pavers in their name. For more information, please feel free to contact Nichole Ipach, Associate Vice President for University Development, at 805-437-8893 or nichole.ipach@csuci.edu.