Celebrating the Past, Envisioning the Future
CI Marks Decade of Distinction
By Lori Putnam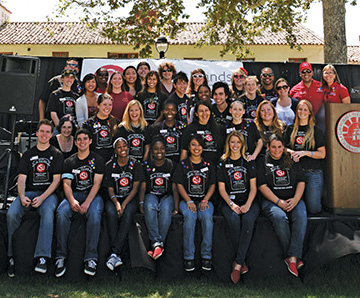 Photo: Orientation Leaders, past and present – Welcome Celebration 

Like the first day of class and the final day of commencement, convocation is a special tradition in the life of the University. This year the ceremony was held on August 24, 2012, almost 10 years to the day of the University's inaugural first day of class. A number of special guests joined faculty, students, and staff at the event, including former chairs of the CSU Board of Trustees Jim Considine and Laurence Gould, Ventura County Board of Supervisors Steve Bennett and Peter Foy, Mayor of Camarillo Jan McDonald, and retiring Camarillo City Councilmember Don Waunch.

"It's a wonderful occasion," said Councilmember Waunch of CI's 10th anniversary. "We as a city are so happy to have the University here, and to have such a good relationship that we hope continues for years to come." The City of Camarillo served as CI's 10th Anniversary sponsor supporting year-long anniversary celebrations.
Days of Wonder
President Richard Rush addressed guests who were seated in front of the latest addition to the CI campus, the new Del Norte and Madera Halls. In his remarks, President Rush described the CI story as one of vision, creation, and success made possible by a shared commitment by faculty, staff, and community leaders.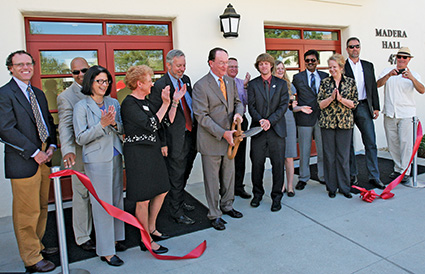 Photo: Del Norte and Madera Halls dedication and ribbon-cutting ceremony

"The world has changed markedly from those heady days of 2002 when we welcomed our first class of transfer students," he said, praising the faculty and staff who miraculously put in place programs and processes in less than one year. "Those were days of wonder. Could we really do it? And what have we gotten ourselves into? But the first singular success of the new academic enterprise was significant. We opened the doors on time with quality offerings and with our values firmly in place."

CI is living testament to the power of a dream, according to President Rush. The University has grown from its original 500 transfer students to a student body of nearly 5,000, despite economic challenges. Nearly half of current students are from Ventura County, and more than a quarter are the first in their families to earn a college degree. In 2011, nearly 1,300 CI students contributed more than 26,500 hours of community service. It is estimated that the annual earnings of CI graduates, now 6,800 strong, total more than $48.8 million creating an additional $302 million in industry activity statewide.

However, the success of the CI dream couldn't rely on public resources alone. In fact, since its founding, CI has embraced a pioneering spirit that has fueled its growth in the face of restricted resources. Key campus projects, including the John Spoor Broome Library and Martin V. Smith Center for Integrative Decision-Making, were the result of the generous private contributions of University benefactors. The CI Student Union was also built without public dollars, pulling funding directly from the students themselves. Through community partnerships with Cottage Health System and Santa Barbara City College, CI also has been able to enhance its degree offerings and expand its geographical reach in new and innovative ways.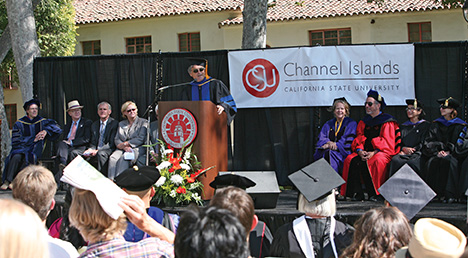 Photo: Inaugural Academic Senate Chair Dennis Muraoka – University Convocation 
A Promise for the Future
"It's a great thing to celebrate," observed President of Student Government David Ashley of the 10th anniversary convocation. "It's incredible to imagine how far along our University has come in 10 years, and it's a great time to recognize the progress and contributions of all those involved in the planning of our University."
Longstanding CI members Greg Sawyer and Dennis Muraoka were also invited to speak at convocation. "As you can see, at CSU Channel Islands we've built more than just a University of bricks and mortar, we've created a culture of excellence," said Sawyer, who is Vice President of Student Affairs and is also the last remaining founding vice president at CI.
"The founding of CSU Channel Islands is the achievement of a lifetime," added Muraoka, who served as the University's first Academic Senate Chair. "Best wishes to you all as we move together into our second decade."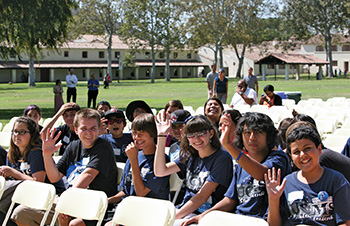 Photo: University Preparation School students

As the University looks ahead to the next chapter of its story, the state's higher education system still faces challenges. Yet CI has proven itself a vital contributor to the region's prosperity. The University has an annual impact of more than $114 million in the region, including 1,200 jobs and $6 million in local tax revenue. For every state dollar CI receives, an estimated $4.34 goes back into the community.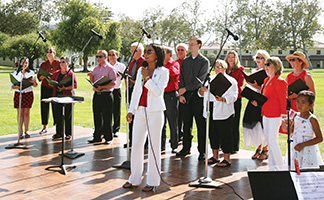 Photo: CI Choir led by Professor KuanFen Liu

Recalling an Athenian quote he shared a decade ago, President Rush reaffirmed what is the CI Way: "We will leave this place not less, but greater," he said to the CI community at large. "Better and more beautiful than it was given to us. This is the CI way, and we've only just begun."