CI Celebrates North Quad Expansion
By Lori Putnam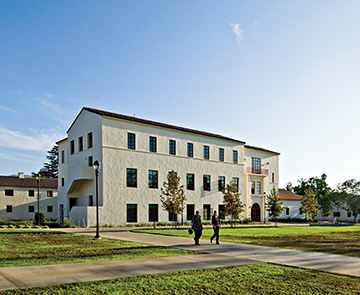 Two-story Madera Hall sits behind three-story Del Norte HallPhoto: Michael Urbanek

The opening of Del Norte and Madera Halls occurred just in time, according to President Richard Rush. In his remarks to more than 100 students, faculty, civic leaders, and University friends gathered to celebrate the North Quad development on September 14, President Rush observed the campus additions would allow CI to "continue to open our doors wide" to an anticipated 5,000 new students and a dozen new faculty members.  

"I came here as a fifth grader," said Vanessa Bahena, a CI sophomore on hand to celebrate the dedication. "Seeing the campus flourish, and how we've grown, it's a great thing."  

The $31.7 million project is the first state-funded construction on campus in more than a decade. In partnership with CO Architects and HMH Construction, the project involved both renovation and new construction. Del Norte Hall is a new three-story building featuring a 120-seat tiered lecture hall and three computer labs equipped with iPads. It is located adjacent to Madera Hall, which underwent extensive renovation that preserved 80 percent of the original building and made room for 115 new faculty and program offices.  

"As we were running out of classrooms, we were also running out of capacity for faculty who would teach these students," said Assistant Provost Dan Wakelee. The renovation of Madera Hall allows the University to accommodate new faculty as well as house academic departments and programs in a single building.  

Originally Del Norte was also to house staff offices. That changed when Ysabel Trinidad toured the construction site and was struck by the possibilities of Del Norte's third floor. "Once you see the view overlooking the North Quad, you realize it is a special place," observed Trinidad, Vice President of Finance & Administration. "I thought it would be a great space for classrooms and other special events." Believing students would be better served using that area, Trinidad recommended that her staff offices be relocated. "I knew it was the right thing to do," she said.  

And while the third floor remains under construction, students and faculty alike are excited to welcome Del Norte as a much-needed addition to CI's academic life. In particular, the Arts and Sciences programs will now have dedicated classrooms. "This is going to provide state-of-the-art classrooms for many years to come," said Associate Vice President of Academic Affairs Karen Carey. "Del Norte really gives students the experience they deserve."  

The two buildings represent a significant milestone in the development of the North Quad. With the pending construction of nearby West Hall, which will provide essential lab space, the North Quad is poised to serve as a key academic hub.