Examining Politics at the Extreme
By Lori Putnam 

While slinging mud has always been part of American politics, CI faculty members Scott Frisch and Sean Kelly can't remember when the tone was as partisan and strident as it is today. "We both have studied American government, and have seen and interviewed dozens of politicians over the years," said Frisch, who is Professor and Chair of Political Science. "And we remember how much better it used to be."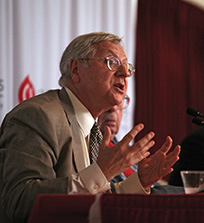 Photo: Thomas E. Mann

Frisch and Kelly are not alone. In their new book, It's Even Worse Than It Looks: How the American Constitutional System Collided With the New Politics of Extremism, co-authors Thomas E. Mann and Norman J. Ornstein sound the alarm of a growing dysfunction in American politics. Both served on the keynote panel of a two-day conference, "Politics to the Extreme: American Political Institutions in the 21st Century," held at CI on October 15 and 16.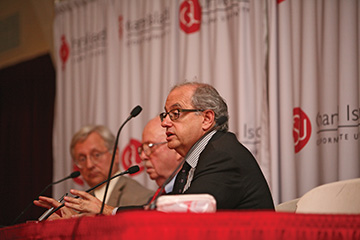 Photo: Norman J. Ornstein

"We always have had difficulties because we're a big, diverse country with contrary and conflicting interests," observed Mann, who serves as a Senior Fellow with the Brookings Institution. "Democracy is learning to live with one another and our differences without resorting to violence and coming to arms."  

However, something has gone awry.  

While hardball politics has been around for a long time observed Ornstein, who is a resident scholar with the American Enterprise Institute, there was still a time when differing political parties could collaborate. "Democrats could work with (President) Reagan. But now it's a different Republican party," he said. Parties are now more interested in being oppositional, according to the authors, rather than collaborating to solve problems.  

The purpose of the event, which was the brainchild of President Richard Rush, is to bring political scientists and practitioners together to explore various factors of polarization. In the end, Frisch and Kelly hope to identify the causes of polarization, the potential consequences to our political institutions, and most importantly, potential solutions in bridging this growing partisan divide.  

In addition to the keynote panel, moderated by former Washington Post senior White House correspondent Lou Cannon, conference participants included faculty from the University of Texas, Trinity College, University of Southern California as well as practitioners from organizations such as the Aspen Institute and the Washington Media Group.  

"Hopefully the next generation of students can think about this and move beyond where we are now," said Frisch.