Driven by Inspiration and Perseverance
By Marya Barlow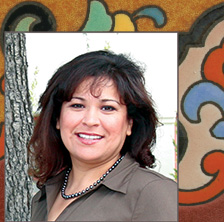 CI Presidential Aide Elizabeth Rubalcava is well-acquainted with the perseverance it can take to earn a college degree.
Over the course of 10 years, working full time, she plugged away at that goal, taking two courses a semester through the CSU Employee Fee Waiver and Reduction Program until she earned her Bachelor's in English from CI in 2007.
"The opportunity to earn my degree was one of the things that drew me to work at CI," she said. "I was a high school dropout. But as I tried to advance in my career, I saw the importance of higher education and didn't want to be held back."
Rubalcava admits there was another powerful source of inspiration: Her boss, President Richard Rush, a longtime English professor, who entrusts her to handle important and sometimes sensitive correspondence.
 "In my darkest hours, Dr. Rush was there to cheer me on and tell me, 'You can do it,'" she said. "The 10-year plan was a long road, but it helped to have such supportive colleagues. When I walked across the stage at commencement, they gave me one of the loudest roars."
As CI observes its 10th anniversary, Rubalcava is celebrating 13 years with the University. One of the earliest staff members, she was hired in June 1999 to answer the phones and support human resources. She quickly learned to wear many other hats as the new campus rushed to open to students in 2002.
"We all rolled up our sleeves to do whatever was needed," she said. "Even though CI has grown, we're still like family. People are dedicated and passionate about working here in a way I haven't seen anywhere else."
Born and raised in Oxnard by a single working mother and her grandparents, Rubalcava dropped out of high school, earned her GED, and held administrative support positions in several government offices. She applied to work at CI at the encouragement of her mother, a human resources manager at the Camarillo State Hospital until it closed and transferred to CI.
Rubalcava became Rush's Presidential Aide in 2003. Initially, she handled the President's hectic meeting and travel schedule and other administrative duties. Over the years, her responsibilities have grown to include more presidential communications and serving as project manager on the CI Foundation Board, where she helps advance key fundraising initiatives.
"This is a special place of opportunity for everyone," she said. "Whether you're coming to work here or to school here, this is a hopeful place that helps people improve their lives. I love this place."