The Faces of Leadership
By Lori Putnam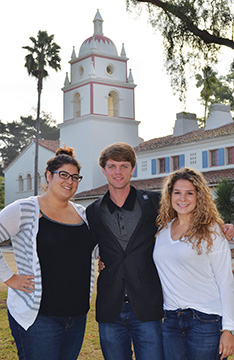 Photo: L to R - Lundon Templeton, David Ashley, and Allie Woerner
For Nautical Yearbook Editor-in-Chief Allie Woerner, leadership meant spending the summer carefully choosing images that capture a year in the life of the University. Meanwhile for Student Government President David Ashley, leadership involved engaging the student body in statewide affairs so each student could make informed decisions in the November election. And helping to secure funding for Dodger Day, a favorite CI tradition, is how Student Programming Board President Lundon Templeton applied her own leadership skills.
Since 2003, Associated Students Incorporated (ASI) has provided students like Woerner, Ashley, and Templeton the opportunity to serve as a voice for CI and subsequently find their own voice as leaders. As a non-profit organization, ASI includes four student entities: student government; student programming board; the Nautical Yearbook; and the Channel Islands View newspaper. Membership in ASI is automatic for any registered CI student, with ASI member fees contributing both to programming as well as campus resources such as the Student Union.
"One of the aspects I most appreciate about ASI student leaders is that they are here to serve the student body, not to necessarily leave a mark for themselves," said Genevieve Evans Taylor, ASI Executive Director. "They are creative, dedicated, hard working, and innovative." What's more, she added, they understand the mission of the University and create programs and events that tie back to that mission.
Since its inception, there have been more than 120 students who have held leadership positions within ASI. Many have gone on to assume leadership roles, such as former student government president Jessica Easterly – who was instrumental in the development of the Student Union – and who now serves as Regional Director for the American Cancer Society's Relay for Life. There are also former ASI leaders now working on campus including Associate Director for Access, Orientation and Transition Programs Kirsten Moss-Frye and ASI Assistant Director Christine Porter.
Although ASI has achieved many goals in the last nine years, perhaps its greatest contribution has been to give CI students an opportunity to discover the leaders in themselves. "When I first came to CI, I was a shy and timid person for the most part," said Ashley. "Getting involved on campus, especially in ASI, helped me to get over that. It has given me the courage to speak up."