Apprenticing Teachers to Strengthen Adolescent Writing

By Mary Adler, Associate Professor of English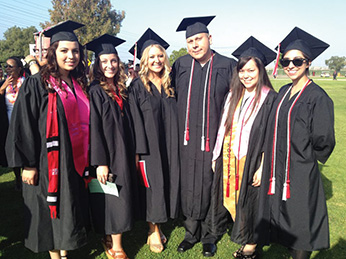 Photo: L to R - Cynthia Hernandez, Calyx Schentrup, Jodi Devorick, Heriberto (Eddie) Rodriguez,Cindy Medrano, and Kristin Pollack


At CSU Channel Islands I have the privilege of teaching those who have a dream of becoming English teachers themselves. They walk into my office and classroom as undergraduates unsure of their profession and leave the University with credentials in hand, ready to seek positions in middle and high schools throughout the region. My primary research area is adolescent writing development and classroom discourse—the role of classroom talk. However, recently my work has focused on the learning that occurs when middle school students and CI undergraduates work together toward a common goal.

Last spring I invited a group of six CI seniors to work with me on a writing intervention at two local middle schools. These schools have had trouble succeeding on standardized tests, with less than 40% of sixth graders performing at proficient levels in writing. Research has been slow to address writing needs among urban schools like these that primarily serve students of color. I am particularly concerned because progress has been very gradual in closing a sizeable achievement gap for Latina/o youth.

The CI seniors accepted my invitation to become tutors for this intervention and decided to make the project part of their Capstone research, under the direction of Professor Bob Mayberry. They gave up time over winter break so that I could train them in how to conduct the intervention. Using rapid, short bursts of instruction, they practiced ways to lead small groups of students in productive learning episodes. The tutor-student relationship was critical because unlike many other interventions, we did not remove students from long segments of valuable instructional time. Rather, building on my prior research with Professor Jill Leafstedt, we provided explicit instruction in particular writing skills that were targeted to student needs and reinforced over time. After only six weeks of instruction—in sessions as brief as 12 minutes, three times per week—results indicated that two of the interventions were successful in improving students' overall writing quality. Moreover, when I retested students eight weeks later, they had retained the gains they had made without additional instruction.

The most exciting part of this research is that while the middle school students were learning, the CI students simultaneously grew in their teaching knowledge. As one of the tutors, Eddie Rodriguez, put it, "The experience has changed the way I see education and has made me a better teacher." Another, Kristin Pollack, reflected, "The writing intervention was an amazing experience for me." She noted, "I will take the strategies I learned…into my future classrooms."

Data that I am analyzing from a prior project with CI student tutors indicates that much of the learning our future teachers gain seems to spring from the questions they pose during the process. Like any apprenticeship, it is from "the doing" that insight comes.