Faculty Member Earns National Math Teaching Honor

Assistant Professor of Mathematics Dr. Kathryn Leonard has earned one of the highest national recognitions for new or pre-tenure math faculty. Leonard accepted the Mathematical Association of America's Henry L. Alder Award for Distinguished Teaching by a Beginning University Mathematics Faculty Member at MathFest 2012 held in Madison, Wisconsin.
The award recognizes "beginning college or university faculty whose teaching has been extraordinarily successful and whose effectiveness in teaching undergraduate mathematics is shown to have influence beyond their own classrooms." Awardees also must have a Ph.D. and two to seven years of experience teaching full-time math. They receive $1,000 and a certificate of recognition. Each year, two or three award recipients are selected from a competitive pool of nominees.
In the five years since she arrived at CI, Leonard has transformed previously dreaded courses like Business Statistics into student favorites, mentored dozens of students on research projects, revamped and revitalized curriculum, influenced other faculty and educators through presentations and sharing of materials, and inspired numerous students to pursue graduate degrees and careers in math.
Read the full story by visiting: http://www.csuci.edu/news/releases/2012-leonardaward.htm
A "Great College to Work For" Third Year in a Row
CI has been named a "Great College to Work For" by The Chronicle of Higher Education for a third consecutive year. A survey released in The Chronicle's fifth annual report on The Academic Workplace rates CI among the top 103 institutions nationwide for its work environment. CI also earned a spot as one of only 42 institutions on the 2012 Honor Roll, which recognizes colleges and universities that score the highest across multiple categories that contribute to employee satisfaction.
The 2012 rankings are based on a survey of more than 46,000 employees at 294 colleges and universities. Employees are asked to rate their institutions in areas such as such as job satisfaction; work/life balance; collaborative governance; confidence in senior leadership; professional/career development programs; compensation and benefits; supervisor/department chair relationship; facilities, workspace and security; and respect and appreciation.
Read the full story by visiting: http://www.csuci.edu/news/releases/2012-greatcollege.htm
President Rush named to California Campus Compact Executive Board
President Richard R. Rush has been named to the Executive Board of California Campus Compact, a coalition of leading colleges and universities working to advance civic and community engagement in higher education.
Rush previously served on the California Campus Compact Executive Board as a member and Chair from 2004 through 2010. In addition, he was a member of the Board of Directors for National Campus Compact, a Presidential organization of more than 1,100 members, from 2005 to 2011 and served as Vice Chair from 2008 to 2011.
The nine-member Executive Board guides California Campus Compact in its mission of encouraging and helping colleges and universities throughout California to make civic and community engagement an integral part of campus life. The Board recommends programs, plans and budgets, and exercises oversight and stewardship of the organization's resources.
Read the full story by visiting: http://www.csuci.edu/news/releases/2012-rushcalcampuscompactboard.htm.
Sophomore wins Hearst/CSU Trustees' Award for outstanding achievement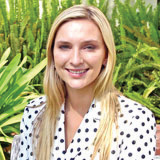 Chloe Keller, a 19-year-old Liberal Studies major from Fillmore, is CI's 2012-2013 recipient of the prestigious William Randolph Hearst/CSU Trustees' Award for Outstanding Achievement. The $3,000 award, given to one student at each of CSU's 23 campuses, recognizes students with financial need who have overcome significant hardships to excel in academics, community service and personal achievements.
Keller maintains a 3.5 GPA while taking 19 units (6 classes), working part-time at a restaurant, and serving as a mentor to underprivileged and underrepresented students through CI's LEAP (Leaders in Educational Awareness) and EOP (Educational Opportunities) programs. A Liberal Studies major, she is weighing future careers as a teacher or doctor.
Keller worked three part-time jobs in high school and was active in her school and community. She participated in student government, 4-H, swim team, softball, cheerleading, volunteered at Big Brothers Big Sisters, and was class valedictorian. She also won the title of Miss Hollywood Teen USA in 2011.
She credits her strong work ethic and desire to help others to being raised in a household that endured financial hardships. Keller says she chose CI because of its small classes, student-centered atmosphere, the beauty of its campus, and the abundance of scholarship, research, travel and community enrichment opportunities.
Read the full story by visiting: http://www.csuci.edu/news/releases/2012-cihearstaward.htm
Doreen J. Putrah Cancer Research Foundation Conference Fellowships
Each year as many as 10 CI students are sponsored to attend scientific conferences related to their collaborative faculty student research at CI, through the generosity of a $10,000 grant from Bob Lovgren. The Doreen J. Putrah Cancer Research Foundation Conference Fellowship was established by Lovgren to honor his wife who died from cancer when she was only 48 years old.
The fellowships are intended to inspire students to develop as scientists by providing the opportunity to travel to a national scientific conference to present their research, learn about the latest advances in their fields, and network with other students, scientists, potential graduate advisers, and future employers. Up to ten $1,000 fellowships will be awarded each year. The fellowships are open to all students in the Arts & Sciences division who are involved in faculty-student research in biology, biochemistry, biotechnology, and cancer-related sciences.
Read the full story by visiting: http://www.csuci.edu/news/releases/2012-putrahfellowships.htm
Staffer Honored as a "Leading Woman in STEM"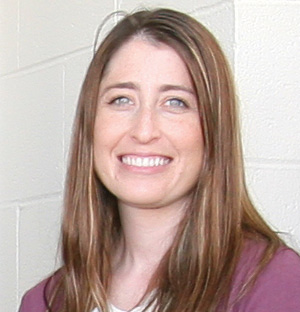 Sandy Birmingham, a STEM Pipeline and Outreach Coordinator for Project ACCESO at CI, has been named a "Leading Woman in STEM" for her work to advance science, technology, engineering and mathematics (STEM) education.
Birmingham was one of 12 California women honored at the 2012 California STEM Summit held in San Diego. The award, presented by the nonprofit California STEM Learning Network (CSLNet), recognizes "achievements in advancing innovative and effective STEM education initiatives across the state and serving as exemplary role models for California women and girls."
The organization honored Birmingham for her work creating high-quality, hands-on afterschool STEM programs. As Pipeline and Outreach Coordinator at CI's Project ACCESO, she works with area K-12 schools, community colleges, CI faculty and undergraduates, and employers on programs and partnerships to excite students about STEM learning and careers.
Birmingham has been a history teacher, a Spanish teacher, and more recently served as a program director for Moving Beyond the Bell Afterschool Programs, where she was honored for helping structure innovative afterschool STEM programs in the Sierra Sands Unified School District, partnering with the Naval Air Warfare Center Weapons Division and other local employers.
CSLNet created the "Leading Women in STEM" awards to help highlight the dramatic need to increase the number of women in STEM fields and to recognize women leaders who are making a difference. Currently, only 25 percent of STEM jobs in the U.S. are held by women.
Read the full story by visiting: http://www.csuci.edu/news/releases/2012-birminghamstemaward.htm
---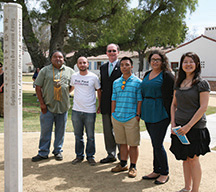 During the Peace Pole unveiling in September, students and campus community members read the engravings in their respective languages: LtoR: Raudel Banuelos/Chumash; Antoine Hage/Arabic; President Rush/English; Juan Carlos Villanueva/Tagalog; Cindy Flores/Spanish; Namiko Tsuchiya/Japanese.