Helping Others Find Financial Success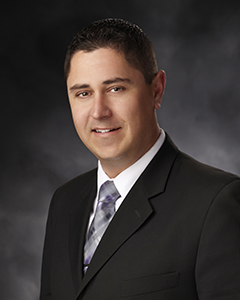 By Marya Jones Barlow
Matt Coulthard ('04 Business) is living proof that a job opportunity can arise at any moment and in the most unexpected of places.
The '04 CI business graduate landed his current job as a marketing director at a national financial services firm after helping the wife of one of its founders with her luggage in a Thousand Oaks parking lot.
"I'm a momma's boy, raised by a single mother," he said. "My mom always taught me to help others, so those instincts kicked right in."
Coulthard impressed the woman so much, he was invited for a job interview days later with her husband—and had a job offer before the interview ended.
"I think my success comes from just genuinely liking and caring for people," he said. "If you have people skills and care about the people you're working with, you'll be successful."
As marketing director at People Helping People (PHP), a national insurance and financial services firm serving middle-income families, Coulthard has helped guide the company's expansion from a single office in Woodland Hills to hundreds of offices in 38 states. PHP celebrated its four-year anniversary in October, with over 10,000 agents employed. Unlike many investment firms that target wealthy clients, Coulthard says PHP focuses on helping average working families build wealth and manage their money wisely, through a combination of classes, consultation, and portfolio management.
Coulthard wasn't always a financial type—but he always had an interest in money. Growing up in Santa Paula, he dreamed of owning his own business. His family didn't have the money for college—and Coulthard had a strong desire to serve his country. So, after graduating from high school, he enlisted in the Navy, where he spent five years working on ships, traveling to five continents, and serving in roles from accounting to search and seizure. He left the Navy in 2000 after attaining the rank of petty officer second class, and headed to Ventura College, transferring to CI in 2002.
Coulthard remembers his college years as a blur of hard work. A single parent raising his son, Jared, now 14, Coulthard also managed a full-time course load while bartending each night from 6 p.m. to 1 a.m.
After graduating from CI in 2004, he went into real estate, where he made a quarter of a million dollars in his first year as a broker. But as the housing crisis hit in 2008, Coulthard found himself overextended, like so many other Americans.
"If I had known more about personal finance, I think I would have managed the financial crisis better," he said.
Now, as a trained and licensed financial advisor, he can draw on his own experience to help others manage their money more wisely.
He admits that his job had another unanticipated perk. It's how he met his wife, Jessica, also a PHP agent. The couple married in August.
"I proposed to her in a quarterly recognition meeting at the office in front of 100 people through PowerPoint," he said. "I'm glad she said 'yes.' Otherwise, that would have been kind of awkward."