Sarah Gallagher, '10, Business
The Motor that Drives ThinGap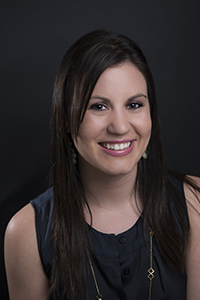 By Marya Jones Barlow
As the 27-year-old President and CEO of an international company that manufactures high-performance lightweight motors, Sarah Gstettenbauer Gallagher (B.S., Business, 2010) meets her share of skeptics who think she's too young to helm a growing technology business.
"Some people see it as a positive—young and innovative; but others look at it as, 'What is this little girl doing?'" she said. "There's definitely a lot of pressure to prove myself."
But if they're not converted after meeting her, a look at her achievements usually wins them over. Since being selected to lead ThinGap by its board of directors in 2011, Gallagher has helped the Ventura-based company refocus its strategy, emerge from debt, restore profitability, expand its product lines, double its production, attract new clientele, and revitalize itself with a new sense of vision and purpose.
"I have high regard for Sarah's leadership talents, which are fulfilling the investors' expectations," said George Holbrook, ThinGap's board chairman and managing partner of Bradley Resources in Santa Barbara. "She has proven very effective in resolving problems—perhaps her most impressive talent—which was beyond the abilities of four older and more experienced previous CEOs. If she's too young and inexperienced, send me more like her."
Gallagher never imagined she'd be a CEO, but from an early age, she lived for hard work. As soon as she was eligible at the age of 15, she sought out full-time employment. In her first job at Fosters Freeze, she was promoted to supervisor within six months. She put herself through Ventura College and CI as a full-time student while also working full-time in retail, administrative and accounting positions.
She was in her third year as the office manager at ThinGap when the company began searching for a new CEO.
"I thought, 'Well, I know I can do it. Why not me?'" she said. "I was already doing a lot of the things that a CEO would be doing. I knew the business, knew where we wanted to go, and had a lot of ideas on how to get there. At the time I was 25. All of my predecessors were males in their 50s and 60s. It was definitely a leap of faith for the board members, but I laid out my plan and they chose me."
That was two years ago. Today, ThinGap produces roughly 3,000 high-powered, lightweight electric motors a month for the global medical, aerospace, robotics and unmanned systems markets. Its clients include Boeing, Aerojet Rocketdyne, Precision Medical, NASA, and Mercedes-Benz. In addition to its headquarters in Ventura, the company operates manufacturing facilities in China and Costa Rica.
"That's what I live to do—take an idea and build it, sell it," she said. "I feel extremely fortunate that people were willing to take a chance on me. I work hard every day to prove that their confidence was well-placed."