Union Bank Continues Legacy of Giving Back
by Lori Putnam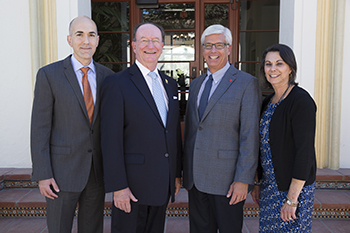 Long before CSU Channel Islands (CI) welcomed its first students on campus, Santa Barbara Bank & Trust gave the young University its first corporate donation in 2000.
Now that legacy of community involvement continues more than a decade later with a landmark $100,000 sponsorship by Union Bank which acquired Santa Barbara Bank & Trust in 2012. The donation represents the largest single corporate sponsorship in the University's history, and will help to support student scholarships and other University priorities at a time when state funding is still uncertain.
"What is happening here at the University is special," said George Leis, who formerly served as President of Santa Barbara Bank & Trust and is now President and CEO of Union Bank's Central Coast Region. He was appointed Chair of the CI Foundation Board in 2012. "This is a really magical place, and it all starts at the top. President Rush is as passionate as anyone I've met about making a difference in the community."
Leis welcomed his Union Bank colleagues Cary Rubinstein, Senior Vice President, Community Banking, and Felicia Sutherland, Vice President, Community Banking—Central Coast Division, to the CI campus in September. During that visit, President Rush shared with them the importance of private/public partnerships in the face of continued economic uncertainty. Over the last four years, state funding for the CSU system has decreased by 33 percent. Despite that gap, CI has found innovative ways to provide high-quality instruction, earn national recognition for faculty and student achievements, and nearly double the size of the campus. 
"It is the CI Way to look for other means to achieve success so that everyone benefits," said Rush. "Our community has made sure this University thrives as a premier higher education institution in the region and nationally. Union Bank's generosity has helped us immeasurably in serving our students."
The University's student-centered mission was clearly evident to Rubinstein as part of an unofficial visit to CI's Pizza 3.14. He asked the CI student working behind the restaurant's cash register about his experience at the University. "He told me this was an amazing place, where teachers are here because they want to teach and the door is always open," said Rubinstein. "Clearly the culture here is strong and alive."
Union Bank will be recognized by CI throughout the year at key events, in Advancement programs, and via electronic platforms. Headquartered in San Francisco, Union Bank operates more than 400 retail branches in California, Washington, and Oregon serving consumers, small businesses, and corporations. Last year, Union Bank contributed more than $12 million in grants and sponsorships to nonprofit organizations in its marketplace.