Faculty Explore Online Learning
Grant Received to Create Online Business Degree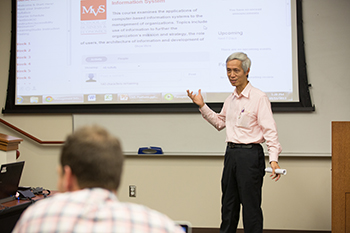 Increasingly, faculty members at CI are experimenting with integrating various technologies in their teaching, leading to the availability of a growing number of partially and completely online courses for CI students during the past few years. 
With a $50,000 grant received by the Martin V. Smith School of Business & Economics from the Commission on Extended University to develop an online degree program, this trend has been accelerated. Once full approval is received, CI will join a growing number of CSU campuses offering a fully online undergraduate completion degree. 
Offered through Extended University and the system-wide initiative known as Cal State Online, the online degree completion program is designed especially for non-traditional students who need the flexibility of anytime, anywhere learning. In particular, the program targets those students serving in the military with demanding schedules, and working adults who are interested in completing their studies.
This past summer, faculty members have toiled diligently to convert their regular face-to-face courses to the online format, which involves reworking the syllabus for the new eight-week format, and evaluating courses using a detailed quality assurance rubric. Additionally, Associate Professor Jill Leafstedt, Director of Teaching & Learning Innovation, and Minder Chen, Professor of Management Information Systems, have led workshops to help faculty better understand online teaching and learning approaches, and the specific tools available. Professor Chen talked about the faculty development of online courses: "I have developed a series of videos in the past covering HTML and database tools because the online delivery mode can be very effective--one of my YouTube videos has more than 80,000 hits. When I found out about the opportunity to develop a fully online course, I immediately decided to pursue it with great excitement. However, I also realized that a successful online course is more than just a series of video-based recorded lectures. I needed to rethink how I could capture the interactions and dynamics of a traditional classroom. Working with Jill and other faculty members on campus, we are exploring ways to facilitate online class interaction by using tools such as the Discussion tool built-in to LearningStudio and vialogues at vialogues.com that facilitates dialogues centered on videos. By studying the best e-learning strategies in designing online courses, we want to ensure that we don't lose sight of students' learning outcomes and experiences in the midst of technical gadgets."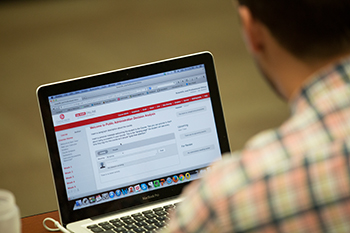 To be kept informed of the latest developments of CI online efforts, interested students should complete the form found at http://ext.csuci.edu/bs-business-online.