The Business of Creating a World Without Poverty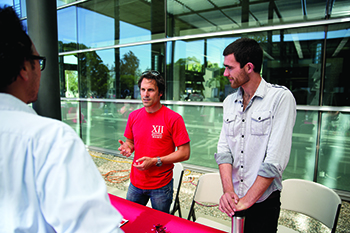 By Lori Putnam
When Nobel Peace Prize recipient Professor Muhammad Yunus addressed the CI community in February 2010, he ignited among many a deep interest in social business. As founder of Grameen Bank, the economist and author has emerged as the preeminent advocate for empowering the poor and spurring social development worldwide through access to small loans, otherwise known as microcredit.
"Poverty is not created by the poor people, poverty is imposed on them, they are the victims of the system so in order to change the system, we have to give them the tools," said Professor Yunus. Through his global social business movement, Professor Yunus has defined a new way for businesses to lead positive social change without relying on charitable donations. 
Among those attending the CI event that day was Martin Loeffler, the recently appointed director of CI's California Institute for Social Business (CISB). "I was looking for an opportunity to create social value but it was hard to find anything that was sustainable," recalled Loeffler, a former finance executive who was completing a year-long sabbatical that had led him across Europe, India, the Caribbean, and the Philippines. Loeffler joined the Grameen team shortly afterward, tapped to create a microfinance organization and social business incubation fund called Grameen Caldas in Colombia. He would remain in touch with CI administrators over the next three years and ultimately returned to campus in May 2013. The CISB, established through a grant by the Hilton Foundation, is part of the Martin V. Smith School of Business & Economics.
Under the leadership of Professor of Political Science Andrea Grove, who served as faculty director, the CISB has launched one of the first business minor and certificate programs of its kind in social business. "There are many corporations today focusing on how to give back," said Grove. "Students with social business knowledge will bring something new to the table." 
Grove also led efforts for a new book, Social Business: Theory, Practice and Critical Perspectives, that illustrates the need for an interdisciplinary approach to addressing poverty. "Just understanding the multiple causes of poverty can help you understand that it's not hopeless. Whether it's Ventura County or worldwide, there are things we can do," she added.
As the new Institute director, Loeffler will be building on his success with launching social businesses in Colombia and complement CI's current academic programs with a social business incubation center that helps CI student entrepreneurs realize their plans to create social businesses. Sage Hall is already becoming home to the Institute's first incubator connecting CI students and faculty in new and innovative ways. Beyond CI, Loeffler is seeking community partnerships such as one with the Los Angeles Unified School District to teach social business at the high school level. 
"Social business is creating a new role for the university," observed Loeffler. "It's no longer just about providing knowledge, it's about the ability to apply that knowledge on the job to solve social problems in your community and in the world."
How Can You Get Involved?
Lead—launch your own social business through CISB
Volunteer—participate in a CISB student
internship 
Mentor—share your expertise by mentoring a CI social business student
Engage—host a CISB workshop at your company
Give—invest in future social businesses through the CISB incubator fund