Quenching the Big Thirst
Campus Reading Celebration Explores the Fluid Future of Water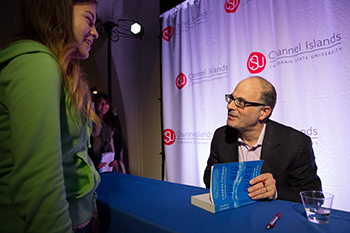 By Lori Putnam
From the spray of the morning shower to the final wash of dirty dishes at the end of supper, water is an inevitable part of our daily routines—available at the touch of a button or the turn of a faucet. Yet according to journalist Charles Fishman, the future of water isn't guaranteed. Fishman is the author of "The Big Thirst: The Secret Life and Turbulent Future of Water" and was the featured speaker at this year's 9th Annual Campus Reading Celebration held on October 10.
"Bottled water has become the indispensable prop in our lives and our culture. It starts the day in lunch boxes; it goes to every meeting, lecture hall, and soccer match; it's in our cubicles at work; in the cup holder of the treadmill at the gym; and it's rattling around half-finished on the floor of every minivan in America," observed Fishman. "Once you understand the resources mustered to deliver the bottle of water, it is reasonable to ask as you reach for the next bottle, not just 'Does the value equal the 99 cents I'm about to spend?' but 'Does the value equal the impact I'm about to leave behind?" 
According to Fishman's research, the U.S. uses more water in three days than the world uses oil in a year.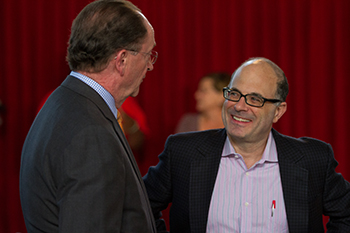 The Campus Reading Celebration has a history of hosting authors with a social perspective, including Nobel Peace Prize recipient Dr. Muhammad Yunus and Pulitzer Prize-winning author and scientist Jared Diamond. In a nod to CI's distinctive interdisciplinary approach, as part of his campus visit Fishman also accompanied CI environmental students to an innovative water treatment center in Oxnard. Currently the city receives half of its water from Northern California. Through its Groundwater Recovery Enhancement and Treatment (GREAT) program, Oxnard is seeking innovative ways to recycle water and supplement the city's water supply.
"The topic of water aligns with our focus on interdisciplinary studies," said Matthew Cook, CI Associate Librarian and head of Unique Collections and Scholarly Communication. "Water can be a metaphor in literature, a resource in environmental science, an inspiration in art, or a revenue source in business." In addition, Cook believes this book more than any other Campus Reading  Celebration topic speaks directly to the Southern California community. 
"In the agriculture community, water is a resource that our citizens and friends depend on; California is almost always in a drought, so water is an issue resonant with the community," he added.
Fishman's previous book was the New York Times bestseller "The Wal-Mart Effect" which explored Wal-Mart's impact on the economy and small businesses.
He is a former metro and national reporter for the Washington Post.