Jillian Glassett – An Emerging Leader
By Marya Jones Barlow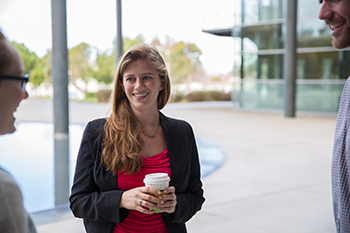 Jillian Glassett will never forget the phone call in 2010 that changed her forever.
"When President Rush called to tell me that I was a President's Scholar, it was one of the proudest moments of my life," she said. "This scholarship allowed me to go to my first-choice school and have a college experience that exceeded my dreams."
The past three-and-a-half years since that call have been packed with more proud moments. Glassett, now a senior double-majoring in Mathematics and Applied Physics, has discovered her career ambition, emerged as a campus leader, found lifelong friends and mentors, and, as she puts it, "become a better person."
The Ramona, Calif., native is one of 19 President's Scholars since 2005 to receive the prestigious four-year scholarship. Endowed by the Pierre Claeyssens family, the program covers tuition, money for books, and a laptop computer for academically gifted students. Glassett says being able to focus on her studies, free of financial concerns, has helped her maintain her 3.98 GPA and devote time to being an active and involved member of the CI community. She tutors struggling students in math and physics, serves as secretary of the ASI (Associated Students Inc.) Board at CI, and participates in undergraduate shape analysis research with Mathematics Associate Professor Kathryn Leonard. 
It hasn't come easily to her. Since childhood, she's struggled with ADHD, but Glassett says medication, organization and openness with others about her condition have helped her focus and make the symptoms manageable.
"This is who I am; it's part of me," she said. "I'm pretty open about it, but I also try not to use that as an excuse to not get things done. I don't want pity or special treatment. I've learned to accept these flaws about me and realize that I can bring unique insights because I struggle with overthinking and sweating the details."
She's also busy preparing for the next chapter of her life. Glassett has a list of 10 universities where she's applying for Master's and Ph.D. programs in Mathematics. Her goal is to become a professor and one day share the "simple beauty and logic of math" with students.
"CI has completely shaped the person that I am," she said. "I'm proud of how far I've come, how I've changed, and that I have a career goal. But it's the late-night talks, the supporting study groups, the trips to Starbucks, the corner in the library where proofs were finished, the leadership retreats, the people I've met and the relationships I have with them–that's what I'll remember 20 years from now."