Jeanne Grier –The Teacher's Teacher…and More
By Marya Jones Barlow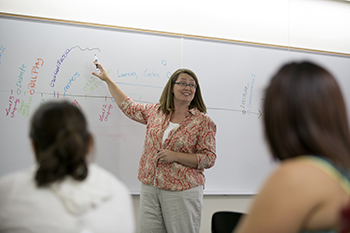 From an early age, Jeanne Grier showed an aptitude for science. When she headed to college to study chemistry, biology and art, Grier's mother hoped it would lead her daughter to a career as a doctor. She got her wish—to some extent. 
"I ended up being a different kind of doctor," said Grier, who ultimately pursued a Ph.D. in teaching and teacher education. "In college I lacked focus and wasn't a stellar student —probably because I hadn't found my passion. Then, I stumbled onto teaching and found my calling. What made all the difference for me was that I had encouragement in key moments from professors who saw something in me and let me know that."
Today, Grier shares that encouragement as a teacher of teachers. As a Professor of Secondary Education and Coordinator/Advisor for the Single Subject Teaching Credential Program, she shapes the program's curriculum and helps prepare middle, junior and high school teachers for the classroom. As Director of the Math and Science Teacher Initiative at CI, she leads a CSU-funded grant program awarding scholarships to promising math and science teachers —more than 70 since 2005. As Co-Director of the Robert Noyce Scholars program, she helps oversee a National Science Foundation-funded grant that awards scholarships to students who plan to teach mathematics in high-need school districts. And, as the recently-elected Chair of the Academic Senate, she heads a 102-person legislative body of faculty and one student, helping guide academic policy and other matters that affect CI's faculty and students. 
"I feel like I have 'grown up professionally' here at CI," she said. "Coming in as an untenured Assistant Professor and having the opportunity to work with some amazing people who are like family to build this institution, this community—and to continue to develop its trajectory—is the best job for me. I've learned so much from so many people and still have so much to learn."
Grier got her first taste of teaching as a high school biology teacher in Missouri, where she also completed her master's degree, by driving 240 miles round trip one night a week for a year to classes at the University of Missouri-Columbia. During her Ph.D. program at the University of Arizona, she worked as a training assistant with renowned Professor of Psychology Dr. Irene Pepperberg on groundbreaking research proving that African grey parrots can reason and use language creatively. Grier spent four years as an Assistant Professor at North Central College in Illinois before joining CI's faculty in 2002. 
Over the past 11 years, she's enjoyed authoring and growing the University's Single Subject Credential Program and impacting the careers of hundreds of teachers now teaching Mathematics, Science, English, and Social Studies in the region's schools.
"Jeanne is exceptional," said Mindy Froelich, a former student now teaching math at Moorpark High School. "She recognizes and values individuality. I always felt safe exploring concepts and voicing opposing opinions in her class. Even years after I graduated from CI, I know that Jeanne is still willing to be a sounding board. I often contact her to discuss educational issues."
Grier has made CI her home in more ways than one. She lives in University Glen with her husband, Joseph, a California State Park ranger, and daughter, Sydney, 5. Now that she has a daughter entering the school system, her mission as an educator has become even more personal.
"I've always known and felt the importance of being a teacher educator, but now that I'm preparing someone who may be my daughter's teacher, I feel it even more profoundly," she said. "I want the future teachers in my classes to understand they are the ones who can impact the lives of their students by creating engaging learning opportunities. It's my responsibility to ensure what I'm doing is valid, reliable and sending the right message and direction for education in our community."