HLI and Veterans Affairs Partner to Connect Veterans to Careers
By Lori Putnam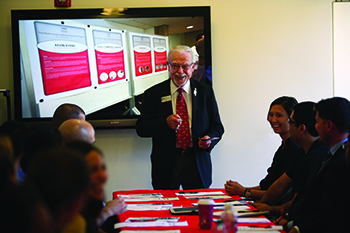 A report has come in of possible explosives in the form of underwater mines placed offshore from the Naval Base in Port Hueneme. Which agency is in charge to address the danger? The location is a civilian harbor, adjacent to a military base, in state waters. 
This is one of a number of scenarios imagined by the Center for Asymmetric Warfare (CAW) to determine how best to coordinate federal, state, and local agencies in times of emergencies. And it is this type of work experience that has given CAW intern and CI student Mark Savala the opportunity to explore a more creative side to his chosen major in Information Technology. What's more, the internship is helping the military veteran to prepare better for a civilian career after graduation.
 "When I began this major, I thought I would just be doing computer programming," said Savala. "This experience allows me to be creative and imagine solutions that have not been thought of before. I want to be part of something where I wake up in the morning and feel like I can't wait to get started."
Through a unique partnership between the Henry L. "Hank" Lacayo Institute (HLI) for Workforce & Community Studies and the Veterans Affairs Program, CI student veterans now have the opportunity to enhance their non-military work experience. Savala is one of five CI student veterans who are participating in internships supported by the Ventura County Veterans Fund. Candidates are selected based on academic performance and matched to internships that align with their individual career goals. In addition to the CAW, CI students were placed with the Gold Coast Veterans Foundation, MilitaryConnections.com, and Stellar Biotechnologies, Inc.
According to Jay Derrico, Coordinator of Veterans Affairs Program and the staff member instrumental in securing the veterans grant, there are currently 86 CI student veterans on campus. Veterans Affairs partnered with HLI to leverage the Institute's career services expertise. "The HLI looks at workforce issues, such as internship programs and workforce issues and trends. We help prepare the students for their actual internships," said Derrico.
According to the National Association of Colleges and Employers (NACE), in 2008 employers extended job offers to nearly 70 percent of their interns. According to a CI-sponsored fall 2011 survey, 67 of surveyed employers cited internships as extremely or very important to recruitment strategy. HLI sponsors and places up to 16 interns a semester. 
Lori Guadarrama, a Biology major interning at Stellar Biotechnologies, Inc., encourages fellow student veterans to consider internships: "It's a wonderful opportunity for anyone looking for experience. And who isn't?"