Profiling of Cancer Cells via Phenotype Microarray Analysis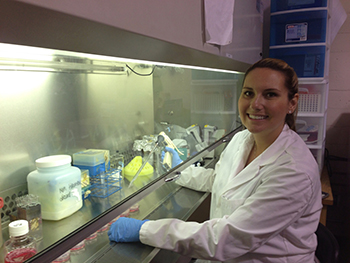 By Nichole Wetton, '14 Biology
For the past nine months I have been working with Dr. Nitika Parmar in the Biology program, doing research that focuses on the analysis of women's cancer cells. Five different women's cancer cell lines are being studied to see how they respond to anti-cancer agents and whether or not a common molecular pathway is being targeted. The cell lines being worked with were two ovarian, two uterine, one breast and one non-cancerous cell line-kidney. A metabolic profiling tool called BIOLOG Phenotype Microarrays was used to study the effect of 96 different anti-cancer reagents on these cell lines. Growth inhibition by these reagents indicated that six specific reagents (substance or mixture for use in chemical analysis)—Berberine Chloride, Azathioprine, Celastrol, Gossypol, Miltefosine, and Etoposide, produced the greatest impact on growth.
The cell lines were treated with these six reagents in a dose dependent manner to determine whether the growth inhibition observed was due to targeting of the insulin/mTOR (mammalian Target of Rapamycin, a protein implicated in a wide variety of cancers) pathway. This was studied using an ELISA based assay called InstantOne ELISA which detects a specific protein in the mTOR pathway. It was observed that cancer cells from different tissues respond differently to the same chemical and that in some cell lines the mTOR pathway is in fact being targeted while in others it was not.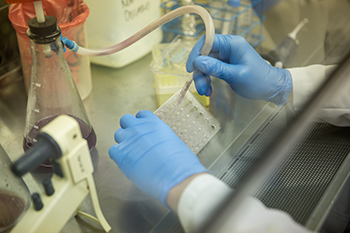 This research has been very exciting for me and it is amazing to see how cancer cells grow and behave compared to normal cells. The field of oncology is quite fascinating as there is no end to the limit of studying cancer cells. I hope to reap the benefits of this valuable research experience when I apply for a graduate degree program soon. I highly encourage all students to conduct research in some capacity as these experiential skills are truly gratifying, both at the personal and scientific level.
Editor's Note: Nichole Wetton conducted this research from Jan. – Aug. 2013 and will complete her research in spring 2014. Three other students are continuing this research during fall 2013.