ASI's Chief Innovator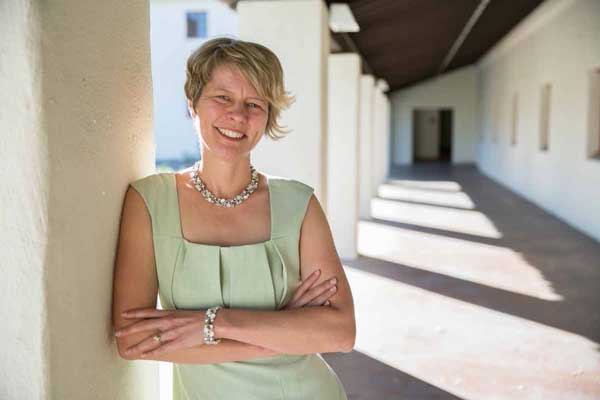 By Marya Jones Barlow
As the daughter of an Army physician, Genevieve Evans Taylor grew up moving from place to place. By the time she was 15, she'd lived in Hawaii, Colorado, Germany, New Hampshire, and Maine. Looking back, Evans Taylor believes that adventurous upbringing may have inspired one of her most fundamental personality traits.
"It made me really excited for new; yearning for new at all times," she said. "I love creating new initiatives and programs and relish the opportunity to build. I'm constantly changing programs because I want them to stay relevant, but also because I need the ongoing challenge and growth."
That hasn't been a problem at CI, where she became the inaugural Executive Director of the ASI (Associated Students, Inc.) in 2009. Over the past four years, Evans Taylor has helped establish a world-class Student Union; overseen CI's Student Government, ASI Programming Board, student newspaper and yearbook; developed innovative student engagement and leadership programs; and created fun, purposeful ways for students to fill their co-curricular time.
"Genevieve has constantly guided me through my leadership experience at CI," said Steven Jordan, a senior who has worked with Evans Taylor as a student government leader. "She cares deeply about students and puts everything into her work. Every time I have a discussion with Genevieve, I learn something new and feel more positive."
That may be why she's a rare two-time winner of the Maximus Award, presented by CI students to an administrator who creates an exceptional learning experience for the student body —two of the many honors she's received in her 18-year career.
"Being with people gives me a high," she said. "I find tremendous joy in helping our students to discover who they are and the strengths they can bring to our world."
Evans Taylor stumbled onto her career path as a highly engaged undergraduate student at The University of South Dakota. She held leadership roles in student programming, honor societies, and her sorority, Alpha Phi. After graduating, she stayed at The University of South Dakota for 14 years in jobs promoting student engagement, earned her master's degree and Ed.D., and developed international leadership programs for Alpha Phi.
In 2009, Evans Taylor jumped at the chance to initiate student engagement and leadership programs on CI's growing campus as its first ASI Executive Director. In the years since, she's proudly overseen the day-to-day functions of the new, state-of-the-art, 23,000-square-foot Student Union, along with 13 student employees, four professional staff members, four ASI entities, and countless campus events. She also has worked as an instructor, curriculum developer and mentor for CI students and community members on topics ranging from team-building and community engagement to leadership and professional development.
"Every morning I come to work and I straighten the chairs in the Student Union," she said. "Something as simple as straightening chairs means a lot to me because I want to create an environment that feels welcoming and fosters unity."