CI Students Travel to Cuba
By Stephen J. Clark, Professor of Spanish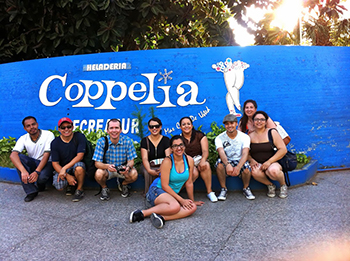 On the evening of May 21, 2013, just after a long week of final exams, 20 CI students and two professors boarded a large white bus parked in front of the John Spoor Broome Library. The butterflies in our stomachs were hard to ignore as we embarked on the first stage of an unforgettable 10-day journey to a country shrouded in mystery that few Americans have been allowed to visit since the early 1960s.
Less than 24 hours later, after a red-eye flight and a long layover in Miami, we found ourselves boarding a very different bus parked in front of José Martí International Airport. We took our seats and listened intently as our guide pointed out landmarks on the way to our hotel in central Havana. After months of navigating a daunting obstacle course of forms, visas, logistical challenges, and special permissions, I'm sure I was not the only traveler among our group who was thinking to himself, "Are we really here?"
The answer, of course, was a resounding "Yes," and we soon realized that the trip was more than worth the effort it took to make it a reality. Our University 392 International Experience course was the culmination of a semester studying Cuba's history, politics, literature, and film in classes offered by the Chicano Studies and Spanish programs. During our time in and around Havana, we interacted with everyday Cubans as well as experts in the fields of economics, politics, medicine, and the arts.
Upon arrival, we were overwhelmed by the sights and sounds of the Cuban capital. The classic architecture of Old Havana, along with the resilient spirit of the city's people, brought to life in vivid hues all that we had studied in the classroom. In addition to tours of historical sites and important cultural centers, what made the greatest impact on us were the visits to community projects that work to make a positive difference in the lives of disabled children and other disadvantaged youth through art and music. 
At the end of our journey, we returned home not only more aware of Cuba's rich culture and history, but also more appreciative of the unique educational programs offered at CI, where international and experiential learning are not just talking points but real opportunities to increase our understanding of the complex world we share. On November 14 the students shared their experience and photos with the campus community, as well as answering questions about their trip.