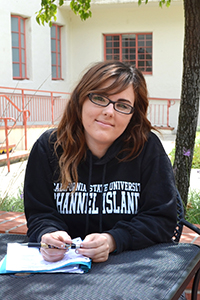 Sophomore Wins CSU Trustees' Award
Annie Alward is the recipient of a prestigious 2013 CSU Trustees' Award for Outstanding Achievement. The Trustees' Awards are among the highest student distinctions within the university and are accompanied by scholarships of $3,000 to $10,000. Presented to one student at each of the 23 CSU campuses annually, the awards salute exemplary student scholars and humanitarians who have overcome significant adversity on their paths to higher education. Alward received a $6,000 CSU Foundation Board of Governors' Scholarship on the special recommendation of the CSU Foundation selection committee.
Alward, a 19-year-old sophomore double-majoring in nursing and biology, was born to a drug-addicted mother and lived a transient life with her father and brother until being placed in foster care at the age of 13. Despite the ongoing disruptions in her home life, she was resolute in her goal to go to college and become a nurse. Alward immersed herself in school, taking Advanced Placement classes; earning a 3.6 GPA; participating in student government, varsity softball and cheerleading; managing the football team; volunteering as a tutor; and working at times to help pay the rent. Known for her outgoing nature and positive attitude, she was voted "Eternal Optimist" by her senior class at San Mateo High School.
Read the full story by visiting: http://go.csuci.edu/csuaward
Faculty/Student Research Paper Wins International Award
A paper authored by Associate Professor of Mathematics Kathryn Leonard and five of her undergraduate students won the "Best Paper" award at the 13th International Conference on Computational Science and Its Applications (ICCSA 2013) in Vietnam. The paper, titled "Minimal Geometric Representation and Strawberry Stem Detection," beat out 14 other nominees for the top award in the annual conference, held June 24-27 in Ho Chi Minh City.
The student authors were Danika Lindsay, Rebecca Strawbridge, Matthew Dawson, Lawrence Averion and Raquel Barata. All five students graduated from CI and have gone on to graduate school or positions as mathematicians and programmers.
Their paper is based on a two-year CI undergraduate research project led by Leonard and funded by a National Science Foundation CAREER grant that Leonard obtained in 2010. The NSF grant supports the work of faculty who exemplify the role of teacher-scholars through outstanding research, excellent education and the integration of the two.
Read the full story by visiting: http://go.csuci.edu/mathaward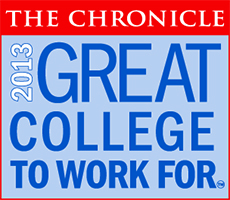 CI Named a "2013 Great College to Work For"
For the fourth consecutive year, CI has been named a "Great College to Work For" in a survey by The Chronicle of Higher Education. The recognition, released in The Chronicle's sixth annual report on The Academic Workplace, ranks CI among the top 97 institutions in the nation for its work environment. The results are based on a survey of more than 44,000 employees at 300 colleges and universities. The Chronicle is regarded as the nation's most important source of news about colleges and universities. Its annual Great Colleges to Work For survey is one of the largest and most respected workplace-recognition programs in the country. 
The survey results are based on a two-part assessment process: an institutional audit that captured demographics and workplace policies from each institution, and a survey administered to faculty, administrators, and professional support staff. The primary factor in deciding whether an institution received recognition was the employee feedback. CI earned top ratings from employees for its compensation and benefits.
Read the full story by visiting: http://go.csuci.edu/gctwf2013
CI Named a Military Friendly School
CI has earned its third national recognition as a "Military Friendly School" in a list highlighting colleges and universities who excel at recruiting, retaining and supporting military veterans. The 2014 ranking, based on a survey of more than 12,000 institutions, places CI in the top 15 percent overall for its military friendliness. The annual list is compiled by G.I. Jobs magazine, a veteran-owned publisher serving members of the military.
Student Wins Laura E. Settle Teaching Scholarship
Shane Rogers is the winner of one of 30 teaching scholarships awarded statewide this year by the California Retired Teachers Association's Laura E. Settle Scholarship Foundation. Rogers, 28, from Oxnard, is working to complete a single subject teaching credential in English from CI's School of Education this fall. The $3,000 scholarship will enable Rogers to focus on his final semester of full-time studies without the need to work or take out loans.
After graduating from UC San Diego in 2007 with a bachelor's degree in literature, Rogers became a substitute teacher in several Oxnard schools, teaching students ranging from kindergarten through post-secondary education. While earning his credential at CI, Rogers worked as a student teacher at Rio Mesa High School, where he helped teach College Preparatory English and a remedial English class designed to strengthen literacy among struggling English language learners.
Read the full story by visiting: http://go.csuci.edu/teachingscholarship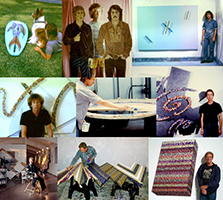 Art Exhibition of Jack Reilly: 40 Years of Painting
CI's Art Program is pleased to present Jack Reilly: 40 Years of Painting, a retrospective exhibition spanning four decades in the pioneering, prolific, and highly praised career of painter and CI Art Professor Jack Reilly. The exhibition runs through Friday, Dec. 13, in the Napa Hall Art Gallery.
The exhibition provides a comprehensive exploration of Reilly's career in the arts, showing his evolution from teenage surfboard painter to trailblazing legend in the Abstract Illusionism movement and internationally renowned artist. Viewers will be able to see early, never-before-seen works, leading up to the signature vivid, multidimensional, multichromatic, abstract shaped-canvas paintings of today. Reilly joined CI as one of the first faculty members in 2001, serving as founder and chair of the Art Program through June 2013. In addition to teaching courses on painting, two-dimensional media, and the Zen of Surfing, he is a productive artist and exhibitor in galleries and museums throughout the world.
The Napa Hall Art Gallery, the University's premier art exhibition venue, is located on Ventura Street on the CI campus. Gallery hours are Monday through Friday, 9 a.m. to 5 p.m. For additional information, contact the CI Art Program at 805-437-2772, email art@csuci.edu, or visit http://art.csuci.edu. To view Reilly's work, visit http://jackreilly.com.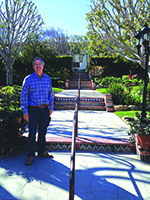 In memoriam
President Rush and the campus community extend sincere condolences to the family of Grant Adamson who passed away recently in a tragic accident while on a family vacation in Switzerland. Grant and his family were generous contributors to the University, sponsoring a gift of Malibu tiles in support of the Central Mall Fountain Project. Our thoughts are with Grant's wife Terry and their two daughters, Lauren and Megan, for their complete recovery.