Gary Cushing,
'10 B.A. Political Science
"It's Never Too Late for College"
By Marya Barlow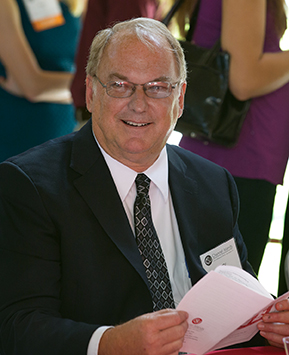 At the age of 52, Gary Cushing was by all measures a success. The self-made owner of several Ventura County restaurant franchises, an active philanthropist and civic leader, he was also happily married, with eight children and 13 grandchildren.
But Cushing still had one dream he hadn't realized: a college degree.
In 2007, he enrolled at CI to earn the B.A. in Political Science he had abandoned three decades earlier, when work and family responsibilities prevailed.
"I was at first hesitant to go back to school because being a nontraditional student I didn't know how I would be treated by the 'regular' students or faculty," he said. "I was treated no differently than any other student. Several professors and students became lifelong friends."
Cushing excelled at CI—even while taking a full course load, working 50 hours a week, and serving as Chair of the Camarillo Chamber of Commerce. During his final year, he presented public policy research on autism at San Jose State University and the University of California, Santa Barbara, and earned CI's Political Science program's Outstanding Research Student Award.
He earned his Master's in Public Policy & Administration at California Lutheran University in 2013. His wife, Julie, an operating nurse at Community Memorial Hospital, worked extra shifts to support him.
"I try to encourage students to stay in school and not put off their degree," he said. "But I'm proof that it's never too late for college. If people say they don't have the time, that's just an excuse. You can always juggle your schedule to do what you are driven to do."
Today, Cushing is President/CEO of the Camarillo Chamber of Commerce and Owner/Principal of Cushing Public Affairs, a firm he founded to lobby for local businesses and organizations. His efforts include launching the Gold Team initiative with California Assemblyman Jeff Gorell to attract and retain Ventura County employers and representing various businesses in Sacramento. Since taking over the Chamber in January 2014, he has turned it around, increasing membership and cash flow.
Cushing also continues to run Camarillo's Marie Calender's—the restaurant he opened in 1991 after working his way up from his first job as a dishwasher/busboy at age 16 in Marie Callender's Burbank location.
He stays closely connected to CI and the community, volunteering on several boards, serving as President of CI's Alumni & Friends Association, helping place interns in CI's Henry "Hank" L. Lacayo Institute for Workforce & Community Studies program, and advising the University's Strategic Planning Committee. He received CI's Alumni of the Year Award in 2013.
"I know what my educational experience did to broaden my horizon," he said. "I want to help other people to do the same."
Return to the Table of Contents
© Fall 2014 / Volume 18 / Number 2