Elise (Elisabeth) Harrell,
'09 B.A. Biology,
'10 Single-Subject Teaching Credential
'Channeling' Her Passion for Teaching
By Marya Barlow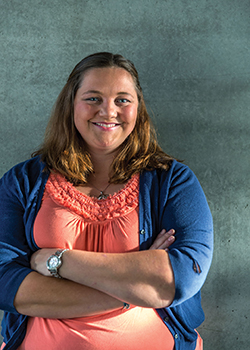 Some people can't wait to get out of high school. Elisabeth (Elise) Harrell couldn't wait to go back.
Eight years after graduating from Channel Islands High School (CIHS), the Oxnard native excitedly returned in 2011 as a teacher. In between, she married her high school sweetheart, attended Moorpark and Ventura College, earned her biology degree from CI in 2009, and completed her single-subject teaching credential at CI in 2010.
"I absolutely love remaining in this community," she said. "I think having that connection helps me relate to the students. At the beginning of the school year I share pictures of me from high school and what teachers I had. The students seem to really enjoy it."
At Channel Islands High School's Marine Science Academy, Harrell teaches marine biology, biology and environmental science to students in grades 10 through 12. This year, she's helping launch a partnership between her school, R.J. Frank Intermediate School, CSU Channel Islands, and Channel Islands National Park called "Crossing the Channel." Funded through a National Oceanic and Atmospheric Administration grant, the program exposes students to hands-on science and ecology on Santa Rosa Island.
"It's exciting to continue this connection with my alma mater," she said. "Through this program, students will learn from CI undergraduates and professionals in the community. We hope to create a new generation of environmental stewards who can share their knowledge. They might even find a career they didn't know existed and fall in love with it!"
That's similar to what happened to Harrell. After graduating from CIHS in 2003, she entered community college planning to be an interior designer, but realized it wasn't for her.
"I remembered how much I enjoyed science classes and all the great teachers I had," she said. "I wanted a job that would make a difference in the world and help people."
At CI, she discovered her passion for teaching science and never looked back.
"CI's professors gave me all the tools I needed to be successful, such as how to make science engaging and fun, and how to teach students with a variety of needs and abilities," she said. "We even practiced writing resumes and did mock interviews with questions known to be asked by the local school districts. I practiced those questions before my first interview and obviously nailed it!"
Now she's transferring her passion to younger generations.
"The best thing about high school science is the opportunity to open young minds to the amazing world around us," she said. "Teenagers can be so concerned with high school drama. I like to find topics, lessons, and labs that engage them in world issues, so they can become better citizens. When I see a class full of students really into a lesson I planned, I feel like I'm making a difference."

Return to the Table of Contents
© Fall 2014 / Volume 18 / Number 2