George Leis: Recipient of the 2014 Robert J. Lagomarsino Award
By Marya Barlow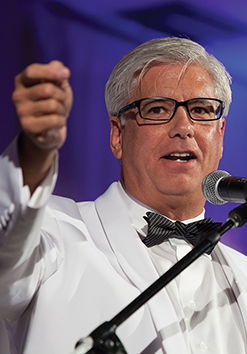 You wouldn't expect a busy regional bank executive serving on eight boards to volunteer for—let alone chair—another one. But after admiring CI from the sidelines, George Leis enthusiastically approached President Richard Rush to offer his help.
"As a former president at Santa Barbara Bank & Trust and now at Union Bank, I interface with universities all over Southern California," Leis said. "I grew very impressed with Dr. Rush's vision and all that he's been able to accomplish. What I see at CI is lightning in a bottle. When I go on campus, the enthusiasm from everyone—faculty, students, staff, administrators—is infectious."
As chair of the CI Foundation Board since 2012 and a member since 2009, Leis is spreading the enthusiasm. Under his leadership, the Board has added ardent new advocates, expanded community support, and helped shape the University's future.
"CI can fulfill students' dreams of being educated to live and work in Ventura County, as well as local businesses' needs for a world-class workforce," Leis said. "We need a viable university in our community so we can create a better life for everyone."
Leis emphasizes that can't happen without donors since state funds aren't enough to cover corresponding growth in campus housing, instructional space, academic and athletic programs, and other priorities like a childcare facility and a campus and community events center.
"One of CI's unique advantages is an abundance of land and an entrepreneurial leadership," he said. "We can accomplish a lot through public-private partnership. That's one proven way CI has been able to build the campus and also provide ongoing revenue to support continued growth."
Leis knows a great deal about revenue and growth. Currently the national sales manager for Union Bank's Private Bank, he previously held roles as president of Union Bank's Central Coast region and president and CEO of Pacific Capital Bancorp, a $7 billion in assets community bank holding company with over 1,000 employees and 47 branches. He's used his expertise to help charities and universities, including CSU Northridge's (CSUN) Foundation Board, Union Bank Foundation and the Channel Islands YMCA, to name a few.
The son of a University of California, Los Angeles elevator engineer, Leis gained an early appreciation for college by shadowing his father around campus. A 1981 CSUN graduate, he credits two professors for helping him land a paid internship that led to his first job. As he rose through the banking world, he never forgot the role CSU played in his success.
On Oct. 18, more than 350 people joined to salute Leis at the 15th Annual President's Dinner in Westlake Village. Leis became the 19th recipient of the Robert J. Lagomarsino Award, presented each year to an eminent CI supporter and named for the U.S. congressman and state senator who was a major proponent of the University.
Though Leis considers the award "humbling," there's one annual event that's even more fulfilling.
"When I attend Commencement and see students who are first in their family to earn a degree and their relatives bursting with pride, that's when I say, 'Mission accomplished,'" he said. "That's when I know we're delivering on that promise of a better future for Ventura County."
Return to the Table of Contents
© Fall 2014 / Volume 18 / Number 2