Philanthropy at CI - An Investment that's Paying Off

By Nichole Ipach, Vice President for University Advancement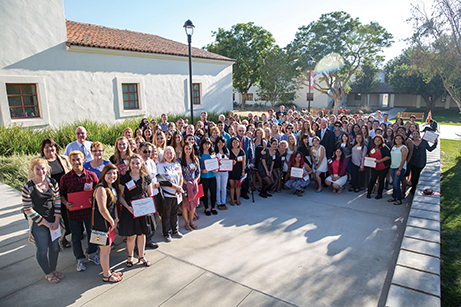 Since opening its doors to students in 2002, the community has invested over $34 million in philanthropic gifts, pledges, and testamentary commitments to CSU Channel Islands. The generosity of almost 7,000 donors including individuals, corporations, foundations, and organizations has created this cumulative result and the return on investment has paid off.
During the past 12 years, CI has awarded 791 scholarships to students totaling over $1.4 million, equipped science labs, helped to construct the John Spoor Broome Library and the Martin V. Smith Center for Integrative Decision Making, created K-12 educational pipeline programs, began and expanded the CI Nursing program into Ventura and Santa Barbara Counties, established classroom space such as the Mike Curb Studio, renovated campus courtyards, and much more.
While these examples are impressive, the larger implications of these results are perhaps even more critical. It is likely no coincidence that as the community's investment in CSU Channel Islands has increased, so too has access to higher education. In 2002, 40 percent of CI students were the first in their families to attend a university. Today, 56 percent of CI students are the first in their families to attend a university and 77 percent come from economic situations that qualify them for financial aid.
While at CI, these same students are encountering life changing experiences. For some it's never having seen the ocean first hand just to find themselves participating in undergraduate research on Santa Rosa Island, for others it's winning an international academic competition, and still others, it's knowing that their education will likely lead them to employment to the benefit of themselves and their families.
As Cesar Calderon, Business & Technology Partnership scholarship award winner and CI student said, "My career goal is to become a high school math teacher and motivate first generation college students and minorities to attend college. My scholarship literally means the world to me because the first day of my teaching career will mark the last day that my father works in the fields."
As CSU Channel Islands continues to seek to achieve its goal of access to higher education for all, students will continue to rely on the generosity of those who believe in them. For more information please visit www.csuci.edu/impact.

Return to the Table of Contents
© Fall 2014 / Volume 18 / Number 2