FIT Studio
A comfortable fit for teaching and technology
By Marya Jones Barlow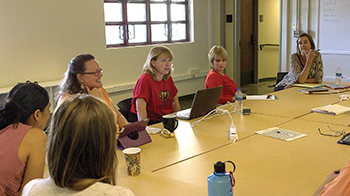 Though the name suggests a tough Pilates workout, CI's new FIT Studio is a place that hosts a different kind of exercise. Located inside Solano Hall, FIT Studio—short for Faculty Innovations in Teaching—allows faculty to give new teaching technology skills a workout in a creative and supportive environment.
"This is very innovative because the vision is not about technology, it's about teaching," said Jill Leafstedt, director of teaching and learning innovation at CI. "The FIT Studio is a space for faculty to have conversations about new ways to bring their content to life and to find the support and tools they need for their courses. Many campuses have labs and technology centers, but very rarely is there a focus on teaching and learning innovation that blends it all."
While the studio features some of the latest and greatest gadgets—including recording booths, video editing stations and a live action studio—other enticements include a coffee bar, living room with a large-screen TV, adaptable meeting spaces, convenient wireless networking, and a talented team of instructional designers, webmasters, developers and graphic designers, eager to help translate faculty ideas and goals into finished products.
"FIT Studio is like an individual consulting firm, connecting faculty with supportive technologies," said Chris Mattia, director of academic technology. "We start off with a discussion, asking each faculty member, 'What are you doing in your class? What are you having difficulty getting students to grasp? What are some of the techniques you're trying?' Faculty are storytellers when presenting materials to students. We're here to help them explore the most effective tools for reaching students."
That can include using course management systems like Blackboard, setting up a website or blog, or harnessing interactive applications like VoiceThread. It can also mean using a recording booth or live action studio to produce lectures, podcasts, and activities that allow students to engage with professors, classmates and course content outside of class.
To preserve hands-on instruction time, Nursing Professor Karen Jensen uses the studios to record lectures that students can view outside of class. Assistant Professor of Sociology Elizabeth Sowers uses Google Presentation to make her introductory sociology class more intimate and allow its 100+ students to collaborate and connect online. Environmental Science & Resource Management Associate Professor Sean Anderson recently popped into the studio to chat and ended up recording a video job announcement to hire a new ESRM faculty member.
"Students and faculty are demanding more ways to connect online with course material and each other," Mattia said. "FIT Studio is a comfortable place to explore how that fits into a faculty member's teaching. It might start with a cup of coffee, but it can lead to a whole range of activities that ultimately create additional spaces for students to learn."
Return to the Table of Contents
© Fall 2014 / Volume 18 / Number 2