Here we Grow Again!
The nation's fastest-growing university enters a new era of expansion
By Marya Jones Barlow
A lot has changed since Student Government President Vanessa Bahena first set foot on the CI campus. Within four years, she has matured from an anxious, first-generation freshman into a driven campus leader and statewide CSU advocate. Yet it's the transformation all around her that Bahena finds most remarkable.
"You can see it in the new buildings, new roads, new faces," the CI senior said. "We're still the youngest, friendliest CSU. But we're not an isolated, little campus anymore."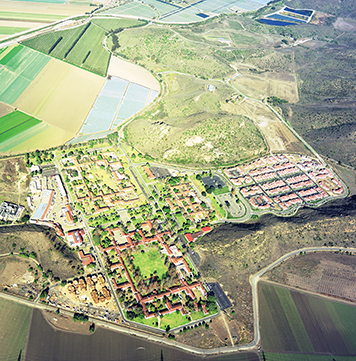 That growth is about to get even more apparent with plans to increase enrollment by approximately 400 new students per year.
For the 12-year-old university already considered the nation's "fastest-growing" public institution by the Chronicle of Higher Education, that means kicking expansion into high gear after nearly a decade of slow growth and diminished state support.
"CI's enrollment growth will expand higher educational opportunity for students in Ventura County and throughout the state," said Hung Dang, CI's Associate Vice President for Enrollment Management. "This will contribute to the economic and social vitality of Camarillo and Ventura County. It's a win-win situation for CI and those who call our region home."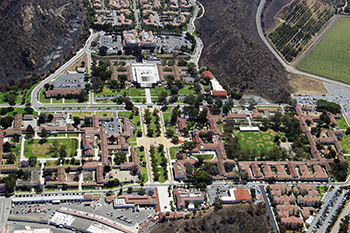 Dang says the University is augmenting course offerings and student services accordingly to ensure student success. This year, CI added a Health Sciences Program, online bachelor's degree in business, and Early Childhood degree at its Goleta location. Seventeen new faculty members were welcomed in the fall.
The University is also forging ahead with infrastructure needed to accommodate the newcomers. Sierra Hall, a three-story academic building is on track to be completed by summer 2015. In November, CI will break ground on a new four-story student residence hall. Santa Rosa Village, the third and largest of CI's residence halls, will house 600 freshmen and open in fall 2016. The student dining commons will also expand, offering additional space and selections to meet the influx.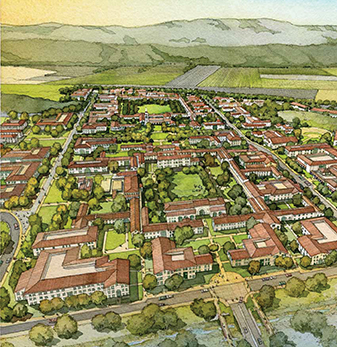 "The demand for student housing on campus is huge," said John Gormley, Campus Architect and Director of Planning Design & Construction. "To house over 1,200 students this year, we had to triple-bunk them in residence halls and lease additional apartments in University Glen and off campus. Since 2004, we've added almost 700,000 square feet of occupied space. It's going to require more construction and creativity as we plan to double our enrollment."
CI's 2025 Vision Plan outlines a roadmap for the University's growth over the next decade. It identifies as key priorities academic labs and lecture halls, student housing, expansion of dining facilities, a health center, wellness and recreation center, conference and events center, and performing arts venue. The plan also prioritizes new parking spaces and expansion of University Glen, including additional on-campus retail stores.
As he has done with repeated success in the previous 12 years, President Richard Rush is turning to community partners and private enterprise to help fulfill CI's promise, while also focusing on building facilities that create sustainable funding for campus growth.
"With partnership and innovation, we are building a public university in Ventura County that reflects our community's hopes, dreams and collective vision for the future," Rush said. "An investment in CI is an investment in our children, our economy, and a more vibrant region for everyone."


Return to the Table of Contents
© Fall 2014 / Volume 18 / Number 2