New Programs Address Health, Wealth and Education
By Marya Jones Barlow
Fall 2014 brought with it the introduction of three new undergraduate academic programs. The programs reflect CI's commitment to making a college education accessible to students in a variety of locations and formats.
Health Sciences
After rolling out CI's Nursing program in 2006, CI found the major became so popular that there wasn't enough room to admit many qualified applicants. The new Health Sciences major expands opportunities for students to earn nursing, medical or dental school prerequisites and prepare for a variety of promising careers in public health, healthcare administration or other related fields.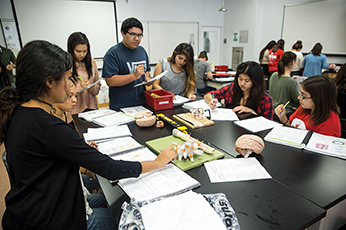 The major combines core courses in areas like biology, chemistry, nursing and sociology with elective interdisciplinary classes and hands-on experiential and service learning.
Students have the option to pursue an emphasis in gerontology or health informatics—two growing, high-demand areas in healthcare. The program culminates in a capstone service-learning internship with a community-based organization, public health organization, or supervised community-based research.
go.csuci.edu/hs
Early Childhood Studies in Goleta
CI's new Early Childhood Studies B.A. program on the Goleta campus answers demand on several levels: It prepares teachers to educate children during the formative early years of life, allows students in Santa Barbara and Goleta to pursue degrees without having to travel far from home, and trains teachers to meet the diverse needs of dual-language learners.
The program serves both Early Childhood Education graduates from Santa Barbara City College and the workforce of early childhood professionals in Santa Barbara County who have an associate degree in Early Childhood or Child Development.
Online Bachelor's Degree in Business
The first fully online degree introduced by CI, the Online Bachelor of Science in Business brings students the outstanding faculty and curriculum of CI's on-campus Business program in a convenient interactive format.
Offered by the Martin V. Smith School of Business & Economics and CI's Extended University, the program supports students and working professionals who need to earn their business degree on a flexible schedule or at an accelerated pace.
The program can be completed on a full or part-time basis and is open to transfer students who have completed 60 units of lower division general education requirements for the business major.
Coming Soon: CI's First Doctorate Degree
CI plans to introduce its first doctorate degree—the Joint Doctoral Program in Educational Leadership (CODEL)—in summer 2016. The new Ed.D., offered jointly by CI and CSU Fresno, is a three-year blended-learning program providing P-12 and community college leaders with opportunities to pursue advanced leadership studies in an accessible and innovative program, designed for working educators.
Return to the Table of Contents
© Fall 2014 / Volume 18 / Number 2