Alum Works to Showcase CI
Ryan Garcia '06 B.A. Art
By Marya Jones Barlow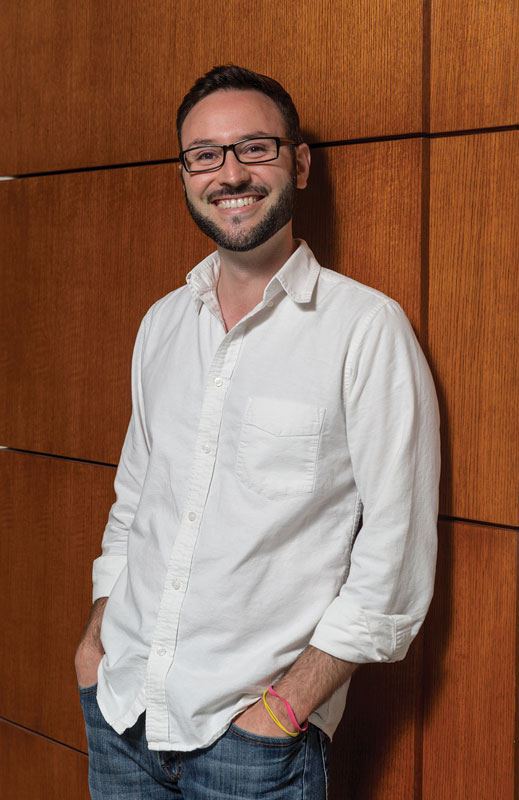 If you've ever visited CI's website, you've seen Ryan Garcia's handiwork. A 2006 graduate of CI's Art program, Garcia is the University's Senior User Experience Designer, shaping the look, feel and functionality of CI's website, mobile apps and other interactive features. He's the first to admit that it's more of a passion than a job.
"I'm pretty emotionally invested in this place," Garcia said. "As a web designer, I get to play a role in how we look to the world. I want people to see CI for what it is—a beautiful campus with amazing faculty. I want us to have the best of the best when it comes to the website."
After transferring to CI from Moorpark College in 2004 with thoughts of becoming a teacher, Garcia got hooked on web and graphic design in classes with professors Luke Matjas and Liz King. During his second year, he won a design contest for the University's catalog cover. He went on to win several awards and land an internship in the Web Services department, where he helped re-design CI's website in 2005.
"Getting the opportunity to design the University website as a student was a great experience," he said. "I had always considered myself to be a graphic designer first and foremost, but that event solidified my path as a web designer."
While a student, he got a full-time job telecommuting as a multimedia specialist for Sonoma State University. After graduating, he went to work as a Web and multimedia coordinator for Oxnard Union High School District. But Garcia always wanted to return to CI to work with the team that nurtured his entry into the profession.
In 2008, he got his chance. He was hired as the Senior Web Designer, and tackled the design and launch of a new CI website for the second time in a decade. This time, however, the Information Technology Services team had the additional challenge of creating a website that performed equally well on mobile devices, tablets, laptops and desktops.
"We have a great team that put in a lot of time and effort into this project," he said. "Seeing the result of all these creative minds coming together has been really fulfilling. I love walking around campus and seeing people using the website. I get instant feedback as to how people are doing with it."
He also returned to the classroom—teaching web and graphic design to CI students.
"It's surreal and humbling because I'm teaching the classes I once took," he said.
"Teaching is bringing me back to some of the stuff about graphic design I enjoy doing most, with all the rewards of helping students learn." Garcia lives in Camarillo with his wife, Libby, and infant son, Austin.
Return to the Table of Contents
© Fall 2014 / Volume 18 / Number 2