President Rush Recognized as One of Ventura County's Exceptional Leaders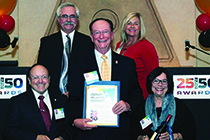 President Richard R. Rush was named one of Ventura County's "25 Over 50" for 2014. The annual awards program created by the Ventura County Star recognizes 25 exceptional leaders over the age of 50 who "leave an imprint on the community through their achievements, leadership abilities, philanthropic efforts, and dedication to the betterment of Ventura County."
Rush received his award on Oct. 16 in a ceremony at the Spanish Hills Country Club in Camarillo, with his wife, Jane, and numerous CI colleagues looking on. He collected a certificate of recognition and a framed copy of a Ventura County Star article highlighting his accomplishments.
Read the full story at go.csuci.edu/rush25over50
CI Recognized as One of Top Universities with 'Bang for the Buck' Ranking
CI has earned recognition as one of the top universities nationwide for its "Bang for the Buck" in Washington Monthly's 2014 College Rankings. The annual rankings highlight public-minded universities providing students the best value for their money. CI earned a ranking of 19th among all master's-granting universities for its value and public benefit.
In addition to weighing the economic value students receive per dollar, the study rates schools based on their contribution to the public good in three broad categories: social mobility (recruiting and graduating low-income students), research (producing cutting-edge scholarship and Ph.D.s), and service (encouraging students to give something back to their country).
Read the full story at go.csuci.edu/bangforbuck
Professor Jose Alamillo Honored with Award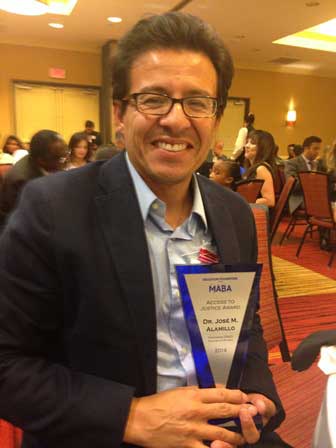 Jose Alamillo, Professor of Chicana/o Studies was honored on Oct. 17 for his work to help Latinos and undocumented students break barriers and excel in higher education. The Ventura County chapter of the Mexican American Bar Association (MABA) presented Alamillo with its Access to Justice Award. The award was one of two given at MABA's Annual Scholarship Dinner to outstanding community leaders who promote the advancement of Latinos.
Read the full story at go.csuci.edu/alamillomaba
CI Wins Grant
CI has partnered with two Oxnard schools, two federal agencies and private business on an educational partnership intended to inspire a new generation of environmental scientists and advocates. The University won a $60,000 grant from the National Oceanic and Atmospheric Administration enabling it to launch a new educational program, Crossing the Channel: An Inquiry Based Expedition.
The hands-on educational program partners CI with Channel Islands National Park, Channel Islands National Marine Sanctuary, the underwater robot company OpenROV, and Oxnard's R.J. Frank Intermediate School and Channel Islands High School. It unites students from middle school through college in ecological exploration and conservation in the Channel Islands, exposing them to various research, monitoring, engineering, data collection, and restoration projects, as well as the joy of science.
Read the full story at go.csuci.edu/noaagrant
Teresa Castillo Wins 2014 CSU Trustees' Award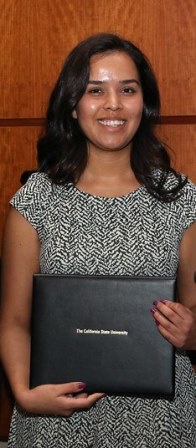 CI sophomore Teresa Castillo is the winner of a prestigious 2014 CSU Trustees' Award for Outstanding Achievement. The annual awards are the CSU system's highest student distinction, providing scholarships to one student at each of the 23 CSU campuses who has conquered hardships to become a distinguished scholar.
Castillo's $6,000 scholarship is a gift from the Sycuan Band of the Kumeyaay Nation. Castillo and the 22 other recipients were honored on Sept. 9 at an awards ceremony hosted by the CSU Chancellor in Long Beach.
Read the full story at go.csuci.edu/castilloaward
Gift of 500 Trees Will Make CI a Greener Campus
The CI campus has become greener thanks to the gift of 500 trees from Alcoa Foundation, the philanthropic arm of Alcoa, a global leader in lightweight metals technology, engineering and manufacturing. As part of its Global ReLeaf pledge and partnering with the nonprofit organization American Forests, Alcoa Foundation awarded CI $25,000 to purchase the trees and more than 80 volunteers planted them on campus on Oct. 4.
The day consisted of planting 500 trees, mostly native varieties such as jacarandas, sycamores, toyons, manzanitas, elderberries, and California bays, on nearly 22 acres of the CI campus. Most were planted along the entrance road, University Drive, and on the lawn area of the John Spoor Broome Library.
Read the full story at go.csuci.edu/alcoa
Professor Frank Barajas Wins Latino Leadership Award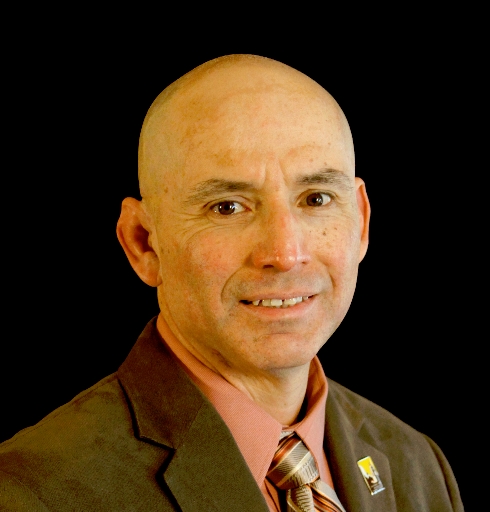 History Professor Frank Barajas was the recipient of a 2014 Latino Leadership Award from El Concilio Family Services. The annual award salutes individuals who have made outstanding contributions to improving the quality of life for the underserved Latino community.
Barajas was recognized for enriching the Latino community through his teaching, writings and activism at the 25th Annual El Concilio Latino Leadership Awards Banquet. The event honored eight community leaders before a standing-room-only crowd of over 350 people at the Oxnard Performing Arts Center on May 31.
Read the full story at go.csuci.edu/barajasaward
Return to the Table of Contents
© Fall 2014 / Volume 18 / Number 2