Denise Pehrsson, '06 B.A. Psychology, and Cory Pehrsson, '09 B.S. Business, are the mother-son duo behind Dynaflex
A driving force
By Marya Jones Barlow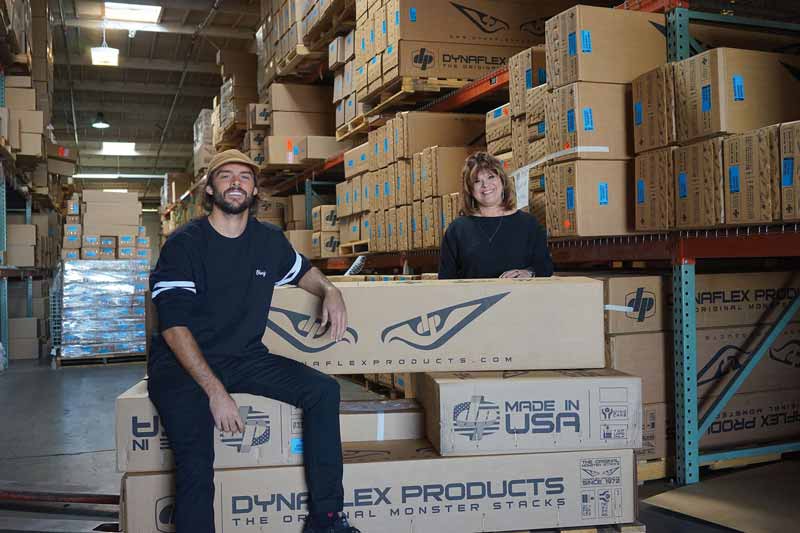 Denise Pehrsson ('06 B.A. Psychology) and her son, Cory ('09 B.S. Business), never intended to run a company together, let alone one that makes diesel exhaust systems. But in 2012, when a planned sale of Dynaflex—the company co-founded in 1972 by Denise's father, Gil Contreras—did not materialize, Cory sought help from the most logical source: family.
Denise took a break from her new career as a psychotherapist to take the helm as president. Cory, who had worked for his grandfather's company since age 15, became vice president, sharing responsibility for over 7,500 products, 100+ employees, facilities in three states, and a grueling travel schedule of client meetings and trade shows.
Today, Dynaflex is in the strongest financial position in its 43-year history. The company has grown over 40 percent since January 2012 and just experienced its best year in both revenues and profits. Under the Pehrssons' leadership, Dynaflex has adopted a data-driven strategy, revamped and expanded product lines, entered new markets, strengthened customer relationships, and solidified its market position as the highest-quality manufacturer of U.S.-made exhaust systems for heavy duty vehicles. While the company's "original monster stacks"—the oversized chrome exhaust pipes it innovated in the 80s—remain a core product and an industry standard, Dynaflex is also gaining ground in new products that reduce emissions in a variety of vehicles.
"It's pretty crazy," Cory said. "Four years ago, the business was flailing and today we're on track to have our best year yet again. Even with an entire company becoming my responsibility overnight at age 25, I never felt overwhelmed, outmatched, or undereducated. I always felt prepared. I think I owe a lot of that confidence to CI and the successes I had in the Business Program."
Denise, a licensed psychologist who also holds a B.A. in Marketing from CSU Long Beach and a Master's in Marriage and Family Therapy from Pepperdine University in Malibu, says her background proved invaluable.
"I hesitate to think what it would be like to do this job without my psychology training," she said. "My education helped me create an environment in which we could regroup and move forward as a team. I felt like I was moderating a group therapy session for a while there. We problem-solve as a team and I work daily with the staff to assist them in growing as people and managers."
The mixture of business and family has worked out well. Cory handles product development, sales, marketing and distribution, and travels over 20 weeks a year promoting and supporting the brand. Denise oversees operations, scheduling, production and inventory—duties that come naturally, thanks to a pre-psychology career as a department store buyer and merchandising manager.
"I miss being a therapist and I still see a few patients a week. I'm finishing my Psy.D. and plan to return to psychotherapy full-time one day," Denise said. "But I wouldn't have it any other way. I grew up around Dynaflex and so did Cory. My father always said, 'We owe these people a tremendous amount.' There was no question that we had to put it back together as a family business."
Two other CI alums are instrumental on their management team. Alex Manning ('08 Business) manages production, scheduling and business analytics, while classmate Travis Allen ('08 Business) manages the sales team.
"We're looking for more Dolphins for our pod," Cory said. "CI graduates are different than the average college kids. They have the personalities and skills to dive in and take a big leap. It's in our DNA to succeed."
Return to the Table of Contents
© Fall 2015 / Volume 19 / Number 02 / Bi-annual