A master builder of new universities
President Richard Rush reflects on CI's first 15 years with awe, appreciation and high hopes for the future
By Kim Lamb Gregory

After almost 15 years at the helm of CSU Channel Islands (CI), President Richard R. Rush will be retiring at the end of the 2015/2016 academic year. Rush surprised most of those gathered in the Grand Salon when he made the announcement during the annual fall convocation address on Aug. 20, 2015.

"I have been privileged to serve as the president of CSU Channel Islands and am honored, more than I can say, to have held in trust, for the once and future students and the good people of Ventura County and the region, this marvelous idea of a university," Rush said.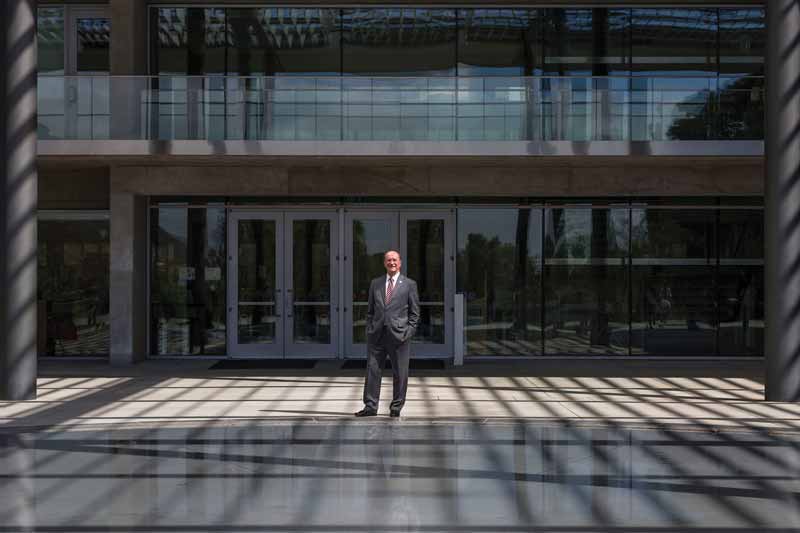 Rush told the audience that CI was at a "tipping point," having received re-accreditation for the next nine years from the Western Association of Schools and Colleges (WASC), which will enable the University to "soar beyond its initial achievements," he said.
In addition, the University this year was granted the authority to develop the campus without relying solely on the state of California. "This gives CI a unique flexibility to respond to defined needs and even to anticipate the demands of a rapidly-evolving world," Rush said.
Rush said he wanted to pass these two milestones before retiring, secure in the knowledge that CI was on a steady course to thrive. "That was a major part of it. And the other part of it is … it's time," Rush said. "My wife and I need to spend time together and do some things that we want to do."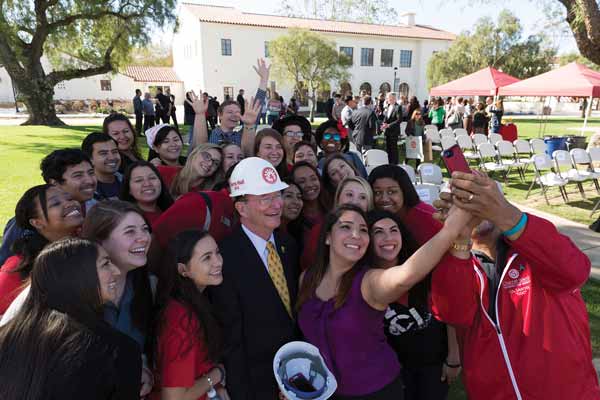 Rush said it will be a nice change not to have someone else managing a tight schedule so he and his wife, Jane, can travel and enjoy a sense of spontaneity elusive for university presidents. "I've waited a long time to do things on impulse," he added with a grin. President Rush's last official day as president will be June 30, 2016.
"I'm sad," said Professor of Secondary Education and Academic Senate Chair Jeanne Grier, Ph.D. "It's one of those things where you knew the day was coming, but you hoped you'd never see it. He is so much the identity of the University."
I have congratulated the staff and faculty on more than one occasion on living significant lives, because they are changing other people's lives. At the end of it all, one of the things I will say to myself on July 1st is, yes, I've lived a significant life, I hope.

President Rush
"Dick Rush is the best President in the CSU system," said Vice President for Student Affairs Wm. Gregory Sawyer, Ph.D. Both Sawyer and Grier were among the first to be hired by Rush when the University was more of an idea than a reality.
"It all started with the merry band of fellows and fellowettes in 2001, and we opened in 2002," Rush said. "We were, at the time, the largest underserved population in the state. That's why people were pushing for a public university here in Ventura County."
When Rush was first hired to build CI from the ground up, it didn't take long for him to realize his work was cut out for him. During his fall commencement speech, Rush recalled that day in 2001 when he first toured the grounds formerly occupied by Camarillo State Hospital. "I was introduced to the campus on the first day …  in a building uncomfortably ventilated at 98 degrees with one naked bulb hanging from the ceiling of the corridor and debris scattered everywhere in the darkness," he said to the audience, drawing laughter.
Rush spent the next 15 years creating partnerships with business and community members, hiring faculty and staff, and helping the University to evolve, sometimes in a challenging economic climate. The University grew, offering courses of study that would lead to careers needed in Ventura County.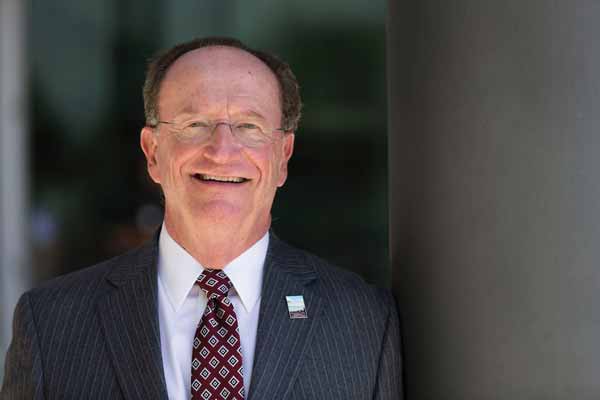 In 2010, CI was designated a Hispanic Serving Institution, meaning that more than 25 percent of the student body identified as Latina/o. Offering a quality education to a diverse student body is one of the cornerstones of the University that Sawyer credits to Rush's leadership. "He was so committed to making sure this campus was accessible to all people," Sawyer said. "And he truly has met that need."
Underscoring the need for a public university in Ventura County are the 20,000 applications for admission the campus has been receiving over the past few years, with the University student body on track to double over the next decade. The Chronicle of Higher Education named CI the fastest-growing university in the nation.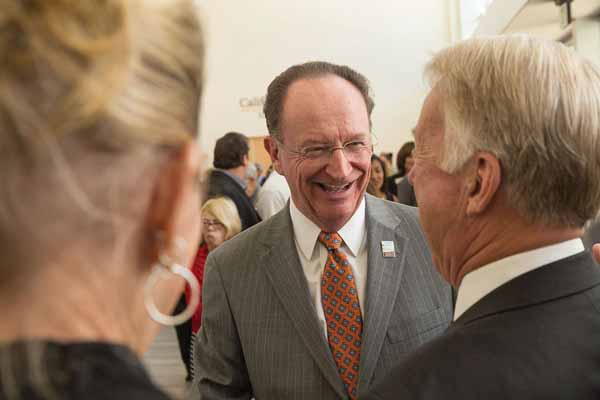 "The best part about growing is we are going to serve another 5,000 to 6,000 students—people who want and need an education," Rush said. "People the state of California needs, so it's a combination of serving individuals and serving the common good."
But growth has its drawbacks, he said, which is why Rush made a point to meet with every single department on campus just before he announced his retirement. He reminded staff and faculty of the "CI Way," which is a spirit of compassion, collegiality and cooperation.
"The thing I'm most concerned about is, that as you get larger, you can lose your soul," he said. "If we lose our value system, it won't be the same place."
Those who know him well spoke about how Rush encouraged calculated risk-taking in order to exercise creativity and innovation to the fullest.
"Two things run through President Rush's professional life," said Provost and Vice President for Academic Affairs Gayle Hutchinson, Ed.D. "His entrepreneurial sense of adventure and his sense of place." Hutchinson said the combination of the two made him a "master builder of new universities." Rush also played a key role in the founding of CSU San Marcos, where he served as the vice president-in-charge, and later as the executive vice president.
Grier remembers the first time she met Rush in Oxnard where he was holding a group interview. "There were 25 people all interviewing for faculty positions," Grier said. "I still remember he asked me if I was willing to build a university and take risks."
Rush said he's proud of so many things when it comes to CI, but the caliber of CI's faculty and staff has remained at the top of his list. "I have congratulated the staff and faculty on more than one occasion on living significant lives, because they are changing other people's lives," he said. "And at the end of it all, one of the things I will say to myself on July 1st is, yes, I've lived a significant life, I hope."
Return to the Table of Contents
© Fall 2015 / Volume 19 / Number 02 / Bi-annual