Fall semester starts with a celebration of scholars and donors
By Kim Lamb Gregory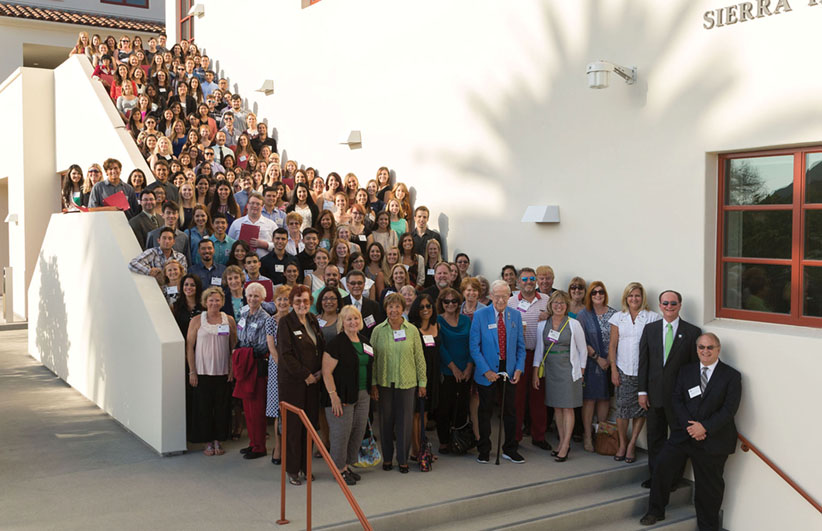 The news was so good, President Richard R. Rush repeated it twice at this fall's CSU Channel Islands Scholarship Awards Reception. "This year, we are awarding $467,000 dollars in scholarships to our students. That's a 72 percent increase," Rush said, then paused, and smiled. "I want to be sure you heard that. A 72 percent increase over last year due to the generosity of these donors and others."
Applause filled the Grand Salon where more than 300 scholarship recipients, donors, staff and faculty gathered to celebrate the spirit of generosity that has fueled the CI campus from the beginning.
"This community wanted this University for 40 years and now it's here," Rush said. "And those of us who are holding it in trust for this community recognize that without the community's involvement, the University would not have been able to achieve all that it has over the past 14 to 15 years."
Scholarship amounts ranged from hundreds to thousands of dollars, with many corporate or private donors giving in the name of a relative or a field of study.
Local philanthropists Nancy and Carl Wesely, for example, provide the Marie Wesely Nursing Scholarship in honor of Carl's mother, Marie, who worked as a practical nurse in the Midwest.
Edison International awarded a grant to fund scholarships for selected STEM (science, technology, engineering and science) students through the Henry L. "Hank" Lacayo Institute for Workforce & Community Studies at CI.
"It's always been part of their corporate responsibility," Lacayo said of Southern California Edison's parent company, "but I also have found them to have a heart."
Among the CI staff and faculty donors were Assistant Provost Elizabeth "Beth" Hartung and her husband, Ignacio Mendiguren, who set up the Mildred Hartung & Beatriz Nuñez International Scholarship for a student wanting to travel abroad.
"Our mothers believed in the value of experiencing more than one culture," Mendiguren said, "a perspective travel can provide."
"My mother was never able to travel, except through books," Hartung said.
Scholarship award recipients thanked their benefactors by participating in a video, and some, like Psychology major Yesenia Garcia of Santa Paula, expressed their gratitude from the podium.
"Being a first generation student—and coming from parents whose job is working in the agriculture fields—is not easy," she said.
Garcia's father found work where he could, often leaving her mother and sister alone for months at a time, she said. When the time came for her to attend college, her heart sank.
"My parents said. 'keep trying to pursue your dreams,' but I knew money would be an issue because their jobs would never be able to pay tuition," she said.
Thanks to the Rosenkrantz Family Scholarship, Garcia is able to attend CI, and is an honors student. "Thank you to my parents for believing in me," she said. "Thank you to all the donors for believing in all of us."
Return to the Table of Contents
© Fall 2015 / Volume 19 / Number 02 / Bi-annual