Sierra Hall:
a state-of-the-art space for science
By Kim Lamb Gregory

Provost and Vice President for Academic Affairs Gayle E. Hutchinson, Ed.D., stood before more than 100 people gathered in Sierra Hall for the building's grand opening on Sept. 15, 2015, and recalled a time when she and many others stood near the same spot with hard hats and shovels.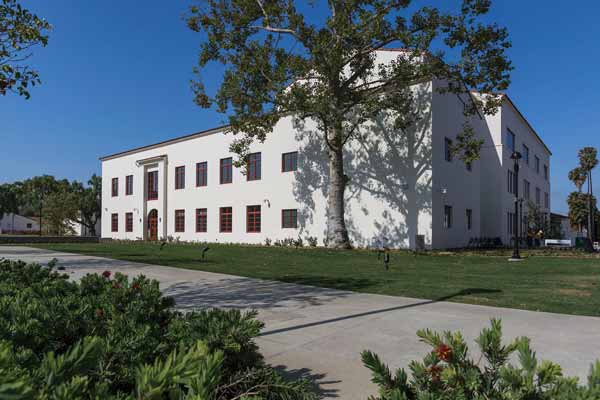 "Many of us stood across the mall right about there for the groundbreaking ceremony of this magnificent building," she said. "I remember that morning on March 14, 2014, as if it was yesterday. The construction site was bare."
Eighteen months later, the three-story, 66,000 square-foot, state-of-the-art science hub was teeming with students and faculty marveling at images of Pluto on ceiling-mounted projectors; examining prehistoric bones from Santa Rosa Island under a microscope; or watching sand crabs scuttle in glass beakers.
Sierra Hall is the new home to the Computer Science, Anthropology, Psychology, Physics, Geology, and Environmental Science & Resource Management (ESRM) programs.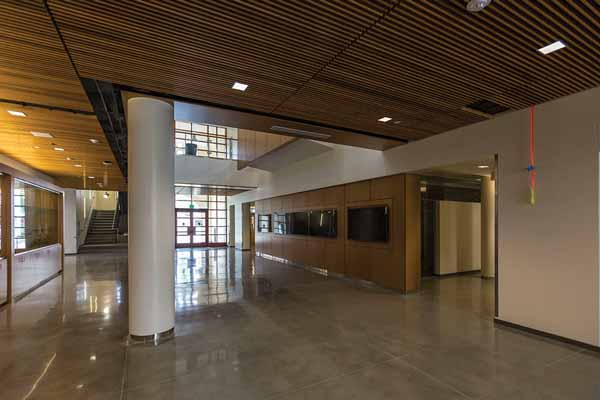 "We are the program that's been surviving literally in kitchen areas and makeshift laboratories for the last 10 or 11 years," said ESRM Chair Don Rodriguez, Ph.D. "So to have legitimate laboratories and space dedicated to what we do will make a lot of difference not only to the students but to the faculty who are doing research. The undergraduate involvement will be enriched."
President Richard R. Rush underscored the celebration of science by sitting down at the grand opening and signing a memorandum of understanding (MOU) with the National Oceanic and Atmospheric Administration. The memorandum, which is unprecedented between NOAA and a university, will allow CI's unmanned aerial and underwater vehicles to explore the protected Channel Islands Marine Sanctuary.
"This MOU will allow us to stay on the frontier of unmanned technology," said CI's Senior Research Officer Jason Miller, Ph.D., who heads the unmanned aerial vehicle program. "It will help us build our program like no other university in the CSU, or probably the state."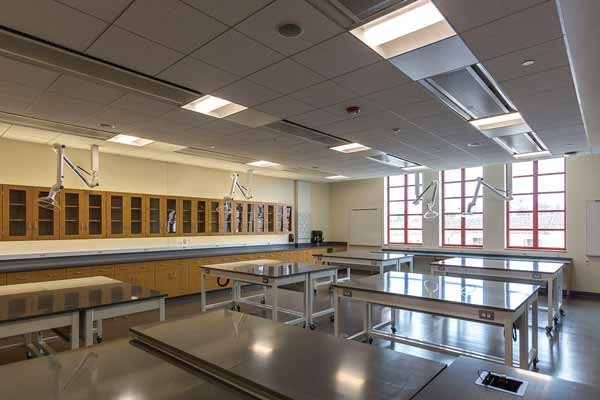 Faculty, staff, students and area dignitaries who gathered in Sierra Hall's sunny lobby area for the grand opening applauded and laughed as Academic Senate Chair and Professor of Secondary Education Jeanne Grier, Ph.D., shared conversations she had with representatives from departments housed by the new building.
"Having two lab rooms means we can offer more courses, sections, projects and extra credit labs," said Geology Lecturer Christopher Wheeler, Ph.D.
Computer Science Lecturer Anna Bieszczad, said the cloud-based and multi-modal classrooms enable her to use different teaching techniques to better address the different ways students learn. "The classroom has only 24 seats, which means I can give individual attention and immediate personalized feedback to each and every student," Bieszczad said.
While Sierra Hall will be this University's science hub, it is so symbolic that it also serves as a model of sustainability.

 Congresswoman Julia Brownley
"Gone are the days of seeing our dusty anthropology colleagues carting materials and archaeological artifacts in squeaky carts," Grier said. "They, too, now have dedicated lab space and storage, although I suspect they will still be dusty." The
$42.7 million project was funded with lease revenue bonds, which are long-term bonds issued by the state to finance public improvements to California universities and other state facilities.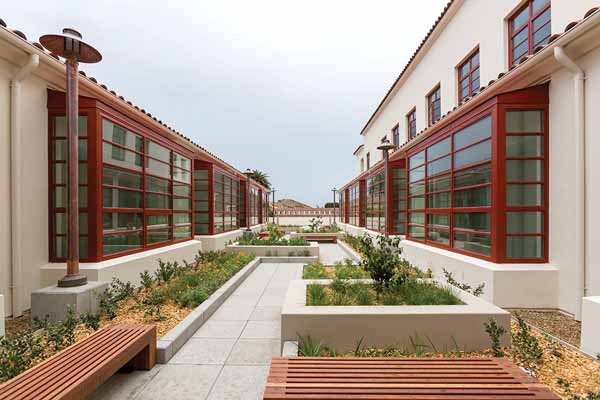 Among the representatives who attended the grand opening were Assemblymember Jacqui Irwin, who has been lobbying in Sacramento for an engineering program for CI, and Congresswoman Julia Brownley, who made certain funding for Sierra Hall was secure in the state legislature.
"While Sierra Hall will be this University's science hub, it is so symbolic that it also serves as a model of sustainability," Brownley said. "Not only does Sierra Hall meet some of the highest standards for green building and design, it was also built with recycled and reclaimed materials."
Brownley noted that although CI is the newest member of the CSU system, it has evolved into an integral part of the future of the county's economic growth owing in no small part to its commitment to science, technology, engineering and mathematics (STEM) education.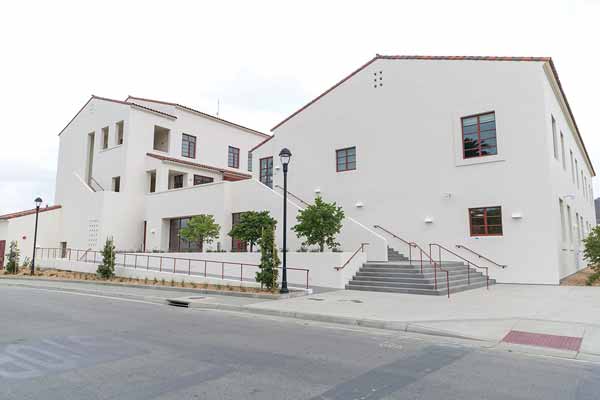 "This is a university that has listened to its community and regional needs and responded accordingly," she said. "With President Rush's leadership and the talented faculty he has hired, we now have a university in our county that is an academic trailblazer."
Speaking last, President Richard R. Rush stressed that he played only one part in seeing Sierra Hall through to fruition, pointing out that he had support from everyone from the University level right on up to the state legislature. "All of us have done this in one way or another. You are the reason this University exists, so let me thank you individually and collectively, because without you, this place wouldn't be what it is today," Rush said.
Return to the Table of Contents
© Fall 2015 / Volume 19 / Number 02 / Bi-annual