Mentor of the mind
Beatrice de Oca, Ph.D., Professor of Psychology
By Marya Jones Barlow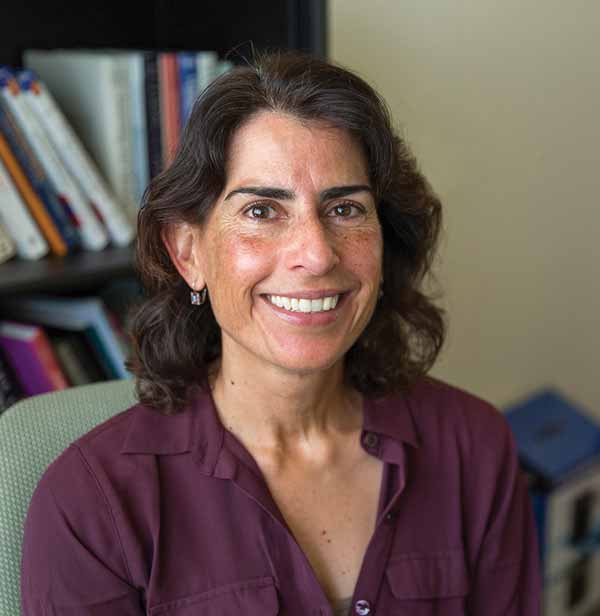 For as long as she can remember, Professor Beatrice de Oca has been fascinated by the mysteries and inconsistencies of human behavior.
"I was always curious about how people could be so nice at one time and then not so nice later on," she said. "It made me think about how people aren't just 'good' or 'bad,' but can be both, depending on the situation. Studying psychology helped me reconcile how people could love each other yet still hurt each other."
Having parlayed those interests into a career as a psychology professor, de Oca now involves CI undergraduates in her quest to decipher human behavior. In addition to teaching courses like Behavioral Neuroscience and Learning, Cognition & Perception, she works closely with four to eight students each year on research projects, examining topics such as the effect of personality and mood on visual attention, the consequences of emotion on physiology, the influence of emotionally arousing pictures on reaction time and attention, and reactions to crying individuals.
"Biological perspectives and the underlying physiology provide very promising ways of understanding human behavior," she said. "Understanding the biological basis of behavior connects to so many things that are relevant. For example, it can help in understanding how emerging therapies for psychological disorders may work and why there are sometimes so many side effects and limitations with drug therapies."
De Oca challenges students in classroom discussions and writing assignments to question the evidence behind popularly accepted ideas, such as whether people are really "left-brained" or "right-brained," or whether depression is caused by a chemical imbalance. Students in Learning, Cognition and Perception write a paper applying class theories to societal issues, such as helping at-risk youth or improving automobile safety.
The advisor of CI's Psychology Club, de Oca is most proud of the scores of students she's led to regional and national conferences, where they've presented research, forged valuable professional connections, and glimpsed what it's like to pursue a research career in the behavioral sciences. Last spring, she took six students in Directed Study in Psychology to Las Vegas for the Western Psychological Association convention to present their research on "Visual Preference Triggered by Mood Induction."
"Dr. de Oca loves what she does, which is so inspiring," said Alejandra Maldonado, a student on the research team that presented in Las Vegas. "She gets students excited about the material and is very clear at explaining hard concepts. Her classes reminded me of why I love science and why I chose this career."
De Oca has published her research in the American Journal of Psychology, Journal of General Psychology, Journal of Neuroscience, and Behavioral Neuroscience, and presented at numerous conferences herself. Originally from Glendale, Calif., de Oca earned her bachelor's degree in psychology from Cal State Los Angeles and her doctorate from UCLA. She joined CI's faculty in 2003 after five years at Western New Mexico University.
"CI's small size and student-centered nature is very appealing, as I most enjoy forming mentoring relationships with students and involving them in research," she said. "It's wonderful to meet my students after they've graduated and see how they are fulfilling their own dreams."
Return to the Table of Contents
© Fall 2015 / Volume 19 / Number 02 / Bi-annual