Help for disadvantaged students
Student Support Services
By Marya Jones Barlow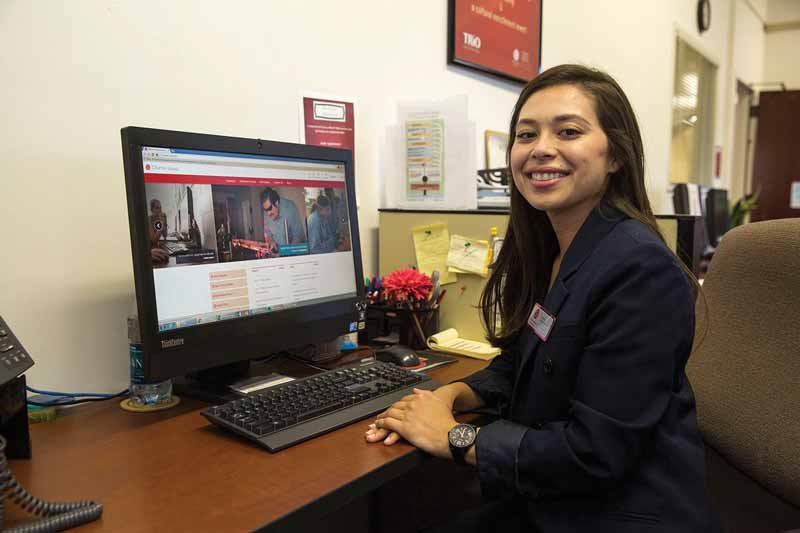 A first-generation commuter student from Santa Paula, Maria "Lupita" Magaña struggled to find her way during her first semester at CI. "I was completely lost, she said. "I felt like I didn't belong here. At one point it crossed my mind that maybe school was not for me because I didn't know where I was going in life with school." Then, she found CI's Student Support Services (SSS) program, which provides academic support and counseling to college students from disadvantaged backgrounds. Today, Magaña is a highly engaged senior psychology major who works as a SSS student assistant, advising others who are low-income, first-generation or have disabilities.
Thanks to a $1.1 million, five-year federal TRiO grant from the U.S. Department of Education, CI provides Student Support Services to approximately 160 students a year, with outstanding results. Of the 355 students who entered the program since 2011, 42 percent have graduated. That's a graduation rate almost three times the national average for the lowest-income students, according to a 2015 National Center for Education Statistics study.
CI's SSS participants are also more likely to stay in school—even compared to peers from privileged backgrounds. Ninety-five percent persist to a second year of college, vs. 77 percent of students overall. Ninety-six percent are in good academic standing.
SSS provided me with mentorship, information and resources I needed to succeed as a first-generation college student.

Alex Yepez

"SSS and TRiO level the playing field for bright students who lack the familial and financial resources to navigate the process of college application, enrollment and graduation," said Director of Student Success Programs Leah Alarcon. "Without TRiO funding and services, many talented students would fall through the cracks."
Alarcon and Assistant Director of Student Success Programs Venus Tamayo know this all too well. Both are first-generation college graduates who went on to obtain master's degrees in counseling and guidance. Their own backgrounds help them guide CI students through the university experience.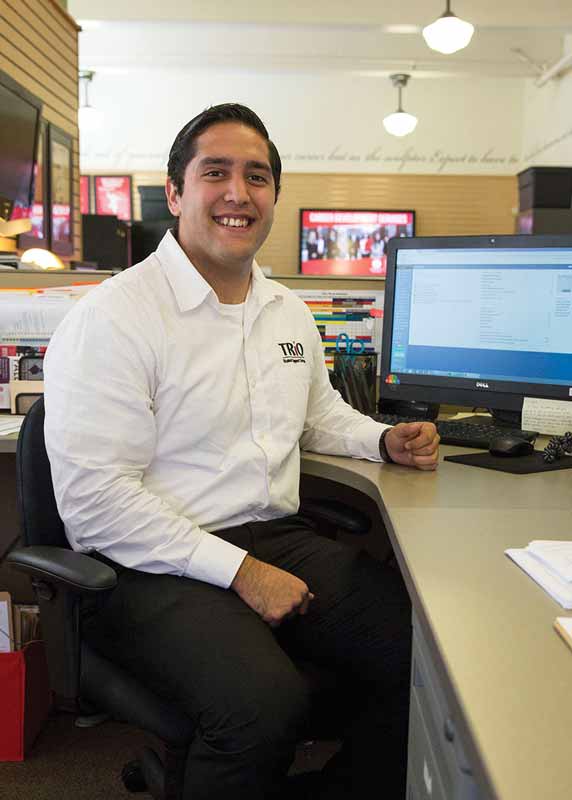 "My parents came to this country and worked in the fields," said Tamayo. "They always told me, 'You've got to get an education. That's the way you're going to succeed in this country.'"
Through initiatives such as CI's Educational Opportunity Program, University Outreach, and Promoting Achievement Through Hope, CI works to improve the retention and graduation rates of these students. SSS participants receive personal, academic, career, financial, and tutorial assistance, as well as mentoring, and graduate and professional school counseling. At the on-campus SSS Center, students can study, seek help, hang out, and connect to peers and campus resources.
More than 70 percent of CI's student population meets the criteria to be served by SSS. The program receives over 200 applications each year.
"SSS provided me with mentorship, information and resources I needed to succeed as a first-generation college student," said Alex Yepez, a senior Sociology major, Student Senator and ASI Board Chair. "I always knew I wanted to go to college, but no one in my family knew how to get me there. From the beginning, the counselors at CI went above and beyond to make sure that I stayed on track and connected to the university."
Return to the Table of Contents
© Fall 2015 / Volume 19 / Number 02 / Bi-annual