Serving those who serve
Jay Derrico, Assistant Director of Veterans Affairs & Commuter Programs
By Marya Jones Barlow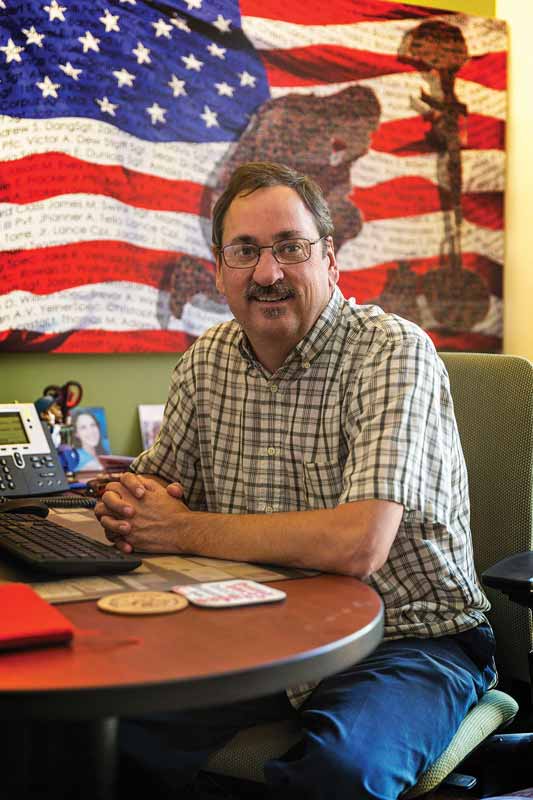 Jay Derrico has earned the respect of CI's military veterans by doing what comes naturally to him: listening and caring.
A former college career counselor and church pastor with degrees in psychology and student affairs, Derrico draws on that background to help CI's 115 student veterans and their 150 dependents navigate veterans' benefits, deployments, and paperwork, and adapt to college and civilian life.
"We're all thankful to have someone like Jay Derrico at CI," said William Vaughn, President of the Student Veterans Organization, Navy veteran, and fall 2015 graduate. "His dedication to our veterans goes well beyond anyone else I have ever seen. It's people like Jay that help our veteran population transition into the university lifestyle and obtain our ultimate goals in graduation."
Derrico came to CI as a career counselor in 2007. After being asked to start CI's Veterans Resource Center in 2011, Derrico set out to create a place where veterans would feel at home. He interviewed CI's veteran population, researched issues faced by veterans in university settings, and adopted practices from the nation's best Veterans Resource Centers.
"The most important thing was building trust so veterans would see the center as a place where they'd find the answers and resources they needed," Derrico said. "My philosophy is to deal with the whole person and not just the student. I see my role as helping them achieve positive change and reach their goals—whether in their personal lives, academic lives, or their lives after CI."
Partnering with Career Development Services and the Henry L. "Hank" Lacayo Institute, Derrico developed an internship program matching student veterans with employers for paid internships that often lead to jobs. He helped launch the annual Medallion Ceremony, where graduating veterans are honored by President Rush, the CI community, members of Congress, and military and local dignitaries. He also runs a mentoring program, organizes career development workshops, serves as advisor to the Student Veterans Organization, conducts outreach at community colleges, and hosts a week-long series of events for Veterans Day.
Derrico's dedication has helped CI earn national recognition five years in a row as a "Military Friendly School." It also earned Derrico a 2014 Maximus Award—an honor awarded to one outstanding staff member each year by students. Derrico's most recent efforts include creating a scholarship for veterans and pursuing grants to fund more internship programs and staff to serve veterans.
"It's not just a 9-to-5 job for Jay. He genuinely cares about the well-being and success of every student that approaches him," said 2014 CI graduate and U.S. Marine veteran Mark Scott. "Jay went out of his way to find me an internship with a veteran-friendly employer that matched my career goals. You could say that it changed the course of my career because I am a full-time employee at that same place two years later."
"One of the privileges of my job is seeing people grow," Derrico said. "It's not advising. It's more about listening and bringing the answer out of them instead of telling and suggesting things."
Return to the Table of Contents
© Fall 2015 / Volume 19 / Number 02 / Bi-annual